Bruce Van Patter
With over twenty years of illustration experience, why am I now concentrating on teaching creative writing in schools?
I believe I can see the "whole package" -- not just the writing part, but the creativity that drives it as well as the final illustrations. I don't just give tips on writing. Plenty of authors can do that. I'm a motivator. I'm a cheerleader for the ideas of kids. And, I make their stories take shape before their eyes!
Here are the skills I bring:
public speaking -- I've spoken in over 350 elementary schools, not including middle schools, high schools, even universities. I've been an artist in residence in two schools, teaching writing and illustrating. In addition to appearing in schools, I've addressed artist groups, civic groups, and reading associations. Audiences have watched me draw on three continents.

illustration -- two decades of work has given me opportunities to illustrate for a wide range of clients. Here's a sampling:

Well-known children's clients:
McDonald's, Scholastic, Crayola, Children's Television Workshop, Golden Books, McGraw Hill, Scott-Foresman
Other clients:
MasterCard, The Washington Post, Hewlett-Packard, U. S. Postal Service, U.S. Fish & Wildlife Service, The Nature Conservancy
To see some of my illustrations, click here.

| | | |
| --- | --- | --- |
| | | But it wasn't until I started visiting schools that I found that I love the challenge of drawing on the spot. There's nothing like the immediacy of drawing in front of a live audience, and being caught up in the flow of their creativity. Fun stuff! |

writing -- After my first book, Max Bonker and the Howling Thieves was published, I signed with a literary agent. I've got a number of writing projects in the works, including writing for websites. My next book, Farley Found It, was published in the fall of 2006. My newest book, Tucker Took It, becomes available in February of 2010. Here's a page highlighting my books. I also wrote a weekly column for a national parenting organization for two years on creativity in families.

humor -- telling jokes isn't just a way to spice up my presentations. It's a demonstration of how creativity works. So I collect jokes that kids can get, but still challenge them to think in new ways.

enthusiasm -- if during my presentations, it looks like I enjoy the kids, it's because I really do. I am energized by the promise that I can help motivate students to be the creative people they were born to be. And I'm not afraid to let that enthusiasm show!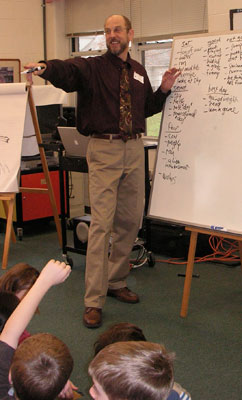 On the home front
I live in central PA with my wife and four children, who range from twenty-five to eleven. Creativity is a way of life at our house. We do lots of off-the-wall things, including playing with our food like this: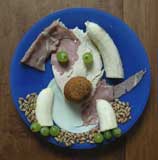 You can see other creative things we do here.
New ventures:
The latest creative adventure for me is drawing in corporate settings. It's called graphic recording and is something like what the UPS guy does on commercials, only way, way more detailed. It's fun!
Also, I've put my approach to inspiring students in a downloadable book, so that you can motivate kids to write, too.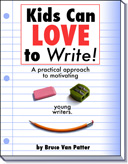 You can more creative writing products at