At Blair Mill, we had great fun...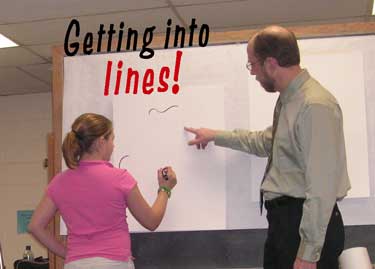 It's amazing what the imagination can do. It can look at a couple of simple lines and see all sorts of animals and people. In my sessions with the kids at Blair Mill, we changed lines into interesting creatures and characters. These kids have great imaginations!
My, what we can make with lines!

| | | |
| --- | --- | --- |
| | | Here are some of my excellent doodlers hard at work, and here is one of their drawings. This one, by Alex, is so creative! I don't quite know what it is, but it sure is fun. |

Here are the two stories from the assemblies. With the younger kids, we had an anaconda which is coming to take over the farm while the hamster farmer goes on vacation. I don't think the other animals are all that happy about the substitute farmer!

And in the second assembly, a kid in a castle brings a giant twinkie to life! His chef mother isn't happy about him using her giant cookie sheet. I was really happy to hear one student recognize her hair as the hair from the old movie, The Bride of Frankenstein.

Two of the characters students made out of lines:

With which story does each one go?
| | | |
| --- | --- | --- |
| | | The Wheel of Fiction chose great directions for us. Thanks to all my "spinners". |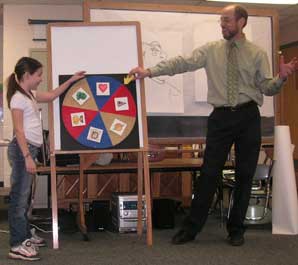 What a great day for being creative! But, you know, any day is a great day for being creative. Blair Mill kids, you have wonderful ideas... share them!
Amazing Stories!
Check out these tales: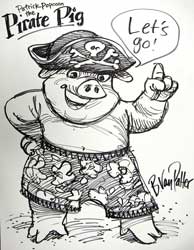 Here's a fun story that came out of an afternoon Kindergarten class. Patrick Popcorn, the Pirate Pig, digs up his buried treasure. It's golden popcorn kernels in buttery oil. But in digging it up, he dumps sand on Solly the Alligator's Sandwich.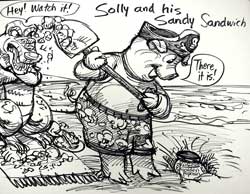 What will they do to work things out? They'll use the lid of the jar and the hot sun to have a popcorn party! A wonderful story!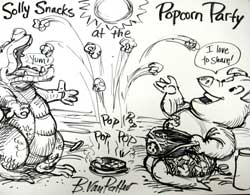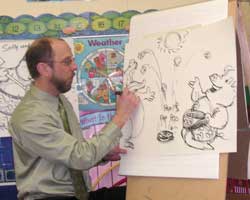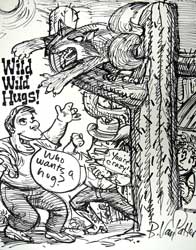 In Wild, Wild Hugs, a gentle giant of a guy wants to win the love of a wild woman who lives in the desert, surrounded by cactus plants and guarded by a wolf. He's trying love and kindness as his way in. I don't think this is a very good drawing of a wolf, but these things happen when one is drawing without sketching first!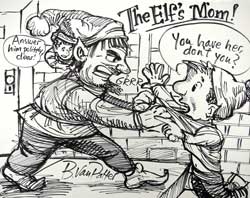 Okay, this is a weird story, but I like it. An elf keep his mom under his hat! She gives him instructions all the time, but then a bully elf takes his mom. Little does he know how hard it is to do bad things when a mom is whispering in his ear!