The assembly stories
The four ingredients: a friendly girl in the Grand Canyon looking to work with fast food with a silly sidekick of a turtle

The story: This girl wishes to make friends with a young man who leads tourists down the trail into the Grand Canyon. So she works at a taco stand, hoping to do something kind for the guy.

Her turtle has a plan -- so sneak himself as one of the taco bowls to surprise him so he would fall over the edge! But before the turtle hatches his plan, he gives the girl a rope so she can save the guy. Some plan!

I actually wrote a different title on the drawing: The Turtle's Plan! But a student suggested this title, so I promised to add it when I posted the drawing.
---
The four ingredients: a platypus on a beach who wants a key up against a vampire puppy!

The story: First, let me say that the vampire puppy idea came from a very cute and little kindergarten girl! How funny!

So in our story, our platypus hero wants his surfboard, but he can't get to it because it is locked up and guarded by a dog. And not just any dog, but the son of a really tough guard dog who has given his son the job for the day. But the puppy just wants to pretend he is a vampire!

So Platty, our surfer hero, uses his tail to ride a wave and snatch the key!
The workshop stories
We dreamed up a story about a girl who is a really interesting character -- she's an amazing inventor of umbrellas that can do incredible things. She really wants to help people, but she's extremely shy. So she walks in the park, hiding behind her umbrellas, listening for people who are in trouble.

There's a boy she really wants to help. But when she brings the umbrella for him, it doesn't do anything special! What's happened?

A businessman, who watched her inventions every day behind a newspaper, swtiched her special umbrella with an ordinary one! He didn't know what it could do, but he's finding out now!
---
A boy who likes to wander around the house on night-time adventures, wonders why his mom told him never to open a locked door in the house. Of course, he's really curious.

Not only that, but he suspects that his mom might be an alien! He's sure he'll find her alien truth behind the door.

But what's really waiting behind the door? The dreaded Night Fliers, evil creatures his mom has told scary stories about. They're actually alien hunters from her home planet. All they need to do is touch him and he'll be transported back!
---
This doodle on the right has a great gesture. We imagined that the pose of his hands showed that he was a magician. The one trick he could do is making fireworks appear.

In this story, which takes place in a medieval village, the boy is tracking down his missing mom, who had been training him in magic.

When he finds her trapped in a glass box by an evil wizard, the boy is told the man is his father!

He doesn't believe him. And now he'll use his one trick to try to free his mom.
---
Want to motivate young writers in your life?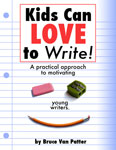 This book can help!
I've collected 39 of my weekly emails to teachers on creative writing into one downloadable book. Kids Can Love to Write captures the essence of my approach to making writing fun for kids. Whether you have an enthused young writer or one that needs big motivation, this book will show you how to get the most out of their imaginative minds.
Find other creative writing helps at my store!
---
New on my site!


I love random connections! Here's a page that will create random What If Questions to help you start stories!
---