The assembly stories
The four ingredients: a trashman in an alley looking for his daughter up against an old lady

The story: our is a trashman who finds one morning that his daughter is missing! He tracks her by a trail of little half-eaten Oreos. (Kids, I just added that idea now.) Finally, he comes to an alley, filled with trash cans.

What evil mastermind is behind his missing daughter? It's no evil genius. It's his mom! She was jealous of how much time he was spending with his daughter and knew he'd come looking for her.

The girl is just hiding in one of the cans. But I decided to add one more character -- a raccoon who's going through the trash and is upset that there's a girl in his favorite can!
---
The four ingredients: a fairy in Texas looking for her wand up against a wolf creature

The story: I love this combination. We have a fairy who lives in a hole in a giant cactus. She flits around the desert using a cactus needle for a wand.

There's a wolf who walks the deser upright, like a man. He wants to get rid of the fairy because she uses her magic to keep him from doing his evil plans. Each time he tries to catch her, she escapes back into her cactus.

One day, he almost gets her, snapping at her through the hole in the cactus. But all he does is get her magic wand stuck in his nose.

Now the fairy has a hard job -- she's got to get her wand back without getting eaten by Wolfie!
---
The four ingredients: a mouse in a hot tub looking for mushrooms up against a frog

The story: For a young audience, this story team came up with really fun ingredients!

This mouse is so scared of everything, all his mouse friends call him "chicken." Now they just call him Chick, for short.

But when all of his friends get sick and can only be cured by mushrooms in the house of the humans, he decides he's going to go get them. So off he goes. He gets the mushrooms, but then the humans come home! He throws the mushrooms into the hot tub! When the humans leave again, he goes to collect his mushrooms.

A frog has also found the mushrooms! There's going to be a battle over them.

I think the mouse is in some hot soup!
It was fun to draw on my computer and have my art on the screen. It easy to draw when I have such great ideas to go into the story!

Brookfield kids, I told you that you are creative! You certainly showed that I was right. Just look at the wild, funny stories above!

Remember, kids: use your creativity. Keep writing. Keep drawing. Don't forget how much fun it is to get your own ideas out and onto paper!
Want to motivate young writers in your life?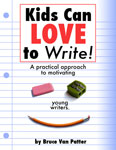 This book can help!
I've collected 39 of my weekly emails to teachers on creative writing into one downloadable book. Kids Can Love to Write captures the essence of my approach to making writing fun for kids. Whether you have an enthused young writer or one that needs big motivation, this book will show you how to get the most out of their imaginative minds.
Find other creative writing helps at my store!
---
New on my site!


I love random connections! Here's a page that will create random What If Questions to help you start stories!
---