Every spring, I'm amazed once again by the beauty that lies hidden in trees just waiting for a warm wind to bring out. That's how I feel about kids. Every child has wonderful ideas just waiting to get caught up in a warm, creative breeze. My time in Bucher was like a Spring of ideas.
I love to start out the day telling the kids how great their ideas are. Many believe me, but some need convincing.

| | |
| --- | --- |
| The two assemblies started off our creative day. I especially like the Pug dog as a "Plug" dog. That's the sinking Titanic our genius octopus is trying to save. | |
| | |
| --- | --- |
| | After a hurried scurry to the library, our workshops began. Lots of laughter went with all our brainstorming. What great ideas these kids had! And we talked much about how to put together a story. |
| | |
| --- | --- |
| Another high-point of the day was meeting this young artist. He so listened to what I told the assemblies about learning to look at things, he went out and did this fabulous drawing of a tree. Just look at the detail! I teach 7th graders how to paint trees in watercolor, and not one of them has made such an excellent tree! | |
Remember, kids: use your creativity. You have great ideas waiting to come out, just like buds on a tree. Use your ideas. It's so much fun to make up your own characters, stories, and drawings.
And don't forget to check out the pages on my website. There are all kinds of fun things here.
For a good place to start, try Fun Stuff. And if you finish one of my stories in The Story Kitchen, email it -- I'd love to read it!
What a marvelous time we had making up stories. Here they are: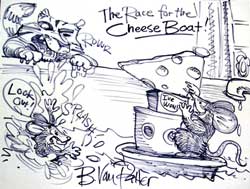 Story One: The Race for the Cheese Boat
Two mice race for the cheese prize in a bathtub after locking the cat outside. But just when the bad mouse is about to win, our poor-swimming hero saves the day with his splashing!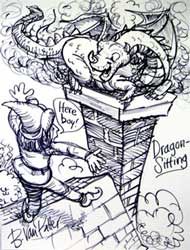 Story Two: Dragon Sitting
Pity this poor elf. Not only is she trying to win a baby-sitting contest by caring for a baby dragon, but the dragon escapes into the neighborhood!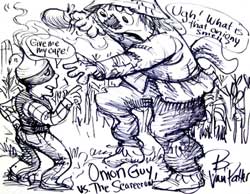 Story Three: Onion Guy vs. the Scarecrow
We didn't work out much of a story line for this, but what a great example this was of a creative mixture of ideas. Here is a superhero whose real job is a farmer! I don't think that's ever been done before. And his super-power is the onion odor he gives off. That's so funny!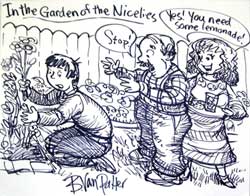 Story Four: In the Garden of the Nicelies
Here we have an interesting idea: a grouchy, gloomy main character. But he wants to impress a girl. Turns out the only thing she likes is the one kind of flower she's not allergic to (thanks, Mackenzie, for that idea). But that garden is in the yard of the people he can't stand... really, really nice people!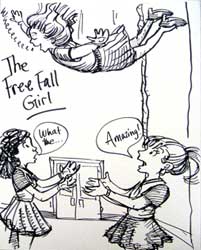 Story Five: The Free-Fall Girl
Again, not much of a plot here, but we talked for a long time about how a simple drawing can have many possibilities for creating an interesting character.