The assembly stories
The four ingredients: a cat in a field looking for a friend up against a two-headed snake

The story: A cat lives in a house by the edge of a meadow. All day long she wishes she could go outside and leave her lonely inside life. One day, she manages to sneak out to the field.

There she meets a really mean snake who tells her to leave. But then another head appears and seems much friendlier. Is it a two-headed snake or two different snakes? And does the friendly one just think her tail is another snake?
---
The four ingredients: a dog-catcher in a scary cave looking to bake a cake up against a strange guy in a burger costume

The story: The dog catcher in this story has been trying to catch a dog for a long time. So he decides to bake a really big dog-bone cake that will slow the dog down enough for him to catch the mutt. The only place he can bake the cake is over a flame pit in a cave he finds.

But the cave and the fire pit belong to a scientist who has transformed himself into a giant burger. It's his dog that the dogcatcher wants. The burger kid is going to give the dog-catcher a whopper of a problem!
The workshop stories
I love this crazy little dude on the right. We decided he should be a kid who stays up all night (see the dark circle under his eye?) and thinks he sees some strange creature flying around. But since he often stretches the truth, no one believes him.

He also likes a girl in town and they agree to meet to talk one night. But she doesn't show up. He knows she must be in trouble, so he goes off to find her and rescue her from what turns out to be an alien bird!
---
A boy baker takes magic rolls that an old baker makes and gives them away. The baker is angry that the boy comes back without money each time. So the boy decides to try to make his own magic rolls to sell to impress the baker.

But the new muffins actually turn people who eat them into giant spiders! (We got that idea from the funny hat in the doodle.) The old chef is now trying to help the boy get the spiders to eat the remedy rolls!
---
When a girl superhero is given the assignment to babysit human children, she knows she has to do well. If she fails, she'll have to give up her superpower: her hair can grow long and wrap around things.

The kids that she babysits, though, are real trouble. They take her controlling brush and use her hair against her. She decides to cut off her hair so that she can stop the kids. What a choice! Without her hair, she'll win the right to keep her hair!
---
This was a fun day, full of exciting stories and overflowing ideas. Kids were just bursting to share their thoughts.

I'm glad you're so energetic to be creative, Cedar Hillers. Now take that energy and pour it into your own stories. I know you can! You proved it to me today!
Remember, kids: use your creativity. Keep writing. Keep drawing. Don't forget how much fun it is to get your own ideas out and onto paper!

In addition to all the free material on this site, I have downloadable books that are perfect for keeping kids writing in school or at home!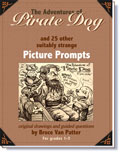 The Adventures of Pirate Dog
Picture prompts are a great way to inspire kids to write! Here are 26 of my best drawings with fun, pre-writing worksheets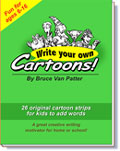 Write Your Own
Cartoons!
Kids can add the
dialogue and their special touches to my funny comic strips filled with wacky characters!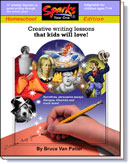 Sparks: Year One
Here's a fantastic resource for teachers: a whole year of weekly creative writing lessons built around wacky holidays!