The assembly stories
The four ingredients: a rabbit in a street looking for ice cream up against a super monkey

The story: our hero is just your average rabbit out to get ice cream on a hot day. But little does he know that there is an evil super monkey who is tired of all those bananas being wasted in banana splits. So he swoops down to take the banana, but the rabbit isn't ready to give up on his ice cream dream!
---
The four ingredients: a janitor in a cave a million years ago who wants a driveway with a silly sidekick of a hot dog.

The story: our hero is a handyman kind of caveman. He's a very practical inventor. But one thing really bugs him: when he comes out from his cave in the morning and he can't find the newsrock that was thrown by the newsrock boy into the rocks around his cave.

So what does he do? He gets some tar and pours it out for a driveway. Unfortunately for his pet, the dog is brought in to roll the tar flat.

That is one hot dog!
The workshop stories
Here is a bear who has left the forest to become a very successful TV chef. He's come back to the forest to start a new show: Wild For Cooking.

But the chef who had a show cancelled because of this bear wants to mess up the bear's new show, so he steals his recipe for some kind of blueberry stew.

Good thing for the bear that he has friends who look out for him in the forest. His bear friends grab the bad chef and haul him out of the woods. See you later, bad chef!
---
In this story, we have a superhero with ice powers. His breath can make things freeze. Or is it his touch that freezes things? I can't quite remember.

It was fun, though, to come up with a drawing of the fire monster that he battles in the Arctic.

The fire monster has kidnapped the Ice Princess to destroy her ice-making crystals, the same crystals that our hero needs for his freezing powers. So the two of them do battle until the the fire monster is trapped on a melting piece of floating ice. The cold sea should put an end to his sizzling plans!
---
What a great day, everyone! Young Author's Day seemed like it was a great success. The real test is if you all go back and put your own ideas down on paper.

Remember, you are amazingly creative. Share your ideas!
Remember, kids: use your creativity. Keep writing. Keep drawing. Don't forget how much fun it is to get your own ideas out and onto paper!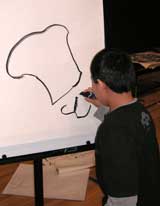 In addition to all the free material on this site, I have downloadable books that are perfect for keeping kids writing in school or at home!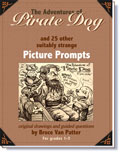 The Adventures of Pirate Dog
Picture prompts are a great way to inspire kids to write! Here are 26 of my best drawings with fun, pre-writing worksheets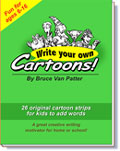 Write Your Own
Cartoons!
Kids can add the
dialogue and their special touches to my funny comic strips filled with wacky characters!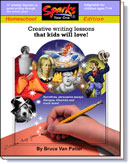 Sparks: Year One
Here's a fantastic resource for teachers: a whole year of weekly creative writing lessons built around wacky holidays!