Day Two in the Corry School District brought me to this great school, where kids were ready to dream up some amazing stories.
The assembly drawings

The four ingredients: a guy in a jet pack chair in a hole looking for a weiner dog with a silly sidekick of a different dog

The story: our hero is an inventor. He has a cool turbo powered chair, but he's trying to train his dog to take care of fetching all the things that he wants. When his usual dog doesn't cooperate, he brings in a dachshund to train.

His regular dog doesn't like this, so he gets the new pooch to dig a big hole in the back yard, where he hopes the dachshund will get stuck.

When the inventor comes to rescue, the pet dog isn't done. He sets off the chair's jets! But weiner dog isn't through!
---
The four ingredients: a hippo on a mountain looking for a key up against a lion

The story: This key that the hippo wants is a key to a treasure. When the mail carrier lion finds out what the key can do, he takes the key and runs away! The hippo chases him. Up the mountain they go.

Just when it looks like the lion will throw the key over the cliff, the hippo's friend bird comes to the rescue!
The Workshop Stories
I love the name of this: Reboot Power. It tells of a superhero boy who used a ring given to him by his grandfather to give him powers. When an evil scientist girl takes the ring, he has to track her down.

But when he finds her, she unleashes her robot mice!


That's when he discovers he has another power. He can send out rays to reboot the wiring of the mice to turn around and attack their former master!

Cool!
---
A racoon has a single friend, besides his grandfather. His friend lives in a cave, where the raccoon never actually sees the creature, but he talks with him and plays tic-tac-toe with it.

But one day, the friend doesn't answer from the darkness of the cave when the raccoon calls. What's happened?

His jealous grandfather has taken the creature. But that's not the only surprise.

His mysterious friend is actually a bat!
---
Finally, here's a story that started with an interesting doodle. This girl is coming out of a box. Why? She's actually an alien and the box is how she can keep changing how she looks. It's a transfomring box.

One day, though, her box disappears. Someone has stolen it. Her human sidekick, who she pays to help her stay one step ahead of the aliens who are tracking her, doesn't know anything about it. At least that's what he says.

It turns out that he took the box. Why? Surprise! He's an alien spy and needs to transform again to keep from being discovered by her!
Want to motivate young writers in your life?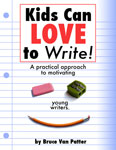 This book can help!
I've collected 39 of my weekly emails to teachers on creative writing into one downloadable book. Kids Can Love to Write captures the essence of my approach to making writing fun for kids. Whether you have an enthused young writer or one that needs big motivation, this book will show you how to get the most out of their imaginative minds.
Find other creative writing helps at my store!
---
New on my site!


I love random connections! Here's a page that will create random What If Questions to help you start stories!
So, thanks to everyone who added to make this a fun day. To the teachers, the kids, to Mrs. Landers and also my own sidekick for the day, Rachel Landers. She took these pictures of me.

You Columbus kids made your own discovery of a new world of ideas today. Now, keep your stories flowing by taking time to get them down on paper.

Remember... you have great ideas. Share them!