My visit to Denver Elementary!
This was a great day of stories. Just check out the tales we invented during the day.
The assembly drawings

The four ingredients: an evil woman scientist in a creepy mansion who wants a friend up against a superhero kid.

The story: This evil genius has kidnapped a hamster to try to create an animal who actually likes her. But she didn't factor in that the hamster is a super-kid's pet! He's shown up to rescue his "Fluffy."

When I was drawing the hamster, kids kept saying it was a rat. That's because I don't really know what a hamster looks like. Turns out, I gave it an unnecessary tail! So later, when I saw a picture of one, I got rid of the tail. Can you figure out where it was?

---

The four ingredients: a crocodile in a bookstore looking for a friend up against a sea creature.

The story: When a salt-water crocodile moves to a city, he has trouble making friends. So he goes to a bookstore to read about sea creatures to make him feel more at home. What he doesn't know is that it's a magical bookstore. But that doesn't bother him. A friend can come in all shapes and sizes.

I have to say that I'm really happy with this drawing. It may be one of my very favorite ones of this year. In fact, I think I will add it to my page of favorite drawings!
We started with this doodle of a boy that we thought might be a genie. So we imagined that he was in a genie boy who had lost his lamp and now was going to school like any other kid. He's got one good friend at school.

But when he hears about a genie contest in which the winner gets a new lamp, he wants so much to win. His good friend, though, wants to stop him because she'd miss him. Sometimes, the problem in a story can come from someone nice!
---
Here's a story about a boy who wants to direct his own movies. He also enters a contest -- the Wheel of Fiction was in a contest mood -- so that finally, everyone can recognize his genius. So he heads out to an amusement park and puts up his set.

But he has a rival film maker who doesn't want the kid to succeed. So he gets all kinds of things to go wrong: a monkey rips the background, an actress he hired over-acts, and a boy actor gets difficult.

That was a lot to put in one drawing!
---
I really like this simple doodle of a boy with a crown peeking out from under a blanket. We imagined that he had a secret hideout which he never lets his sister enter. And he has a magic crown that can transport him anywhere!

One day, when he is supposed to be babysitting his sister, he finds his crown has been taken by his sister. He's frantic to figure out where she would want to go, because he's never tried to understand her. Here his mother has come home and wants to know where the girl is. He's backing up to try to hide in his fort, not knowing that -- of course -- his sister most wanted to transport into the blanket fort!
---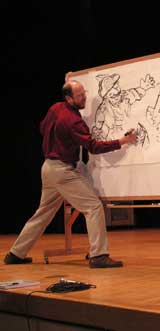 In addition to all the free material on this site, I have downloadable books that are perfect for keeping kids writing in school or at home!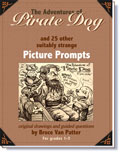 The Adventures of Pirate Dog
Picture prompts are a great way to inspire kids to write! Here are 26 of my best drawings with fun, pre-writing worksheets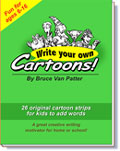 Write Your Own
Cartoons!
Kids can add the
dialogue and their special touches to my funny comic strips filled with wacky characters!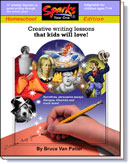 Sparks: Year One
Here's a fantastic resource for teachers: a whole year of weekly creative writing lessons built around wacky holidays!