The assembly stories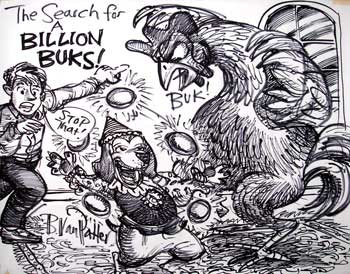 The four ingredients: a rich kid in a mansion looking for a billion dollars with a silly sidekick of a clown
The story: This boy went searching for money in a spooky mansion. Maybe he's spent all his parent's money. Anyway, in the mansion, the dog finds these golden eggs and decides to juggle them, not knowing that they belong to a giant chicken who lives in the manion!
---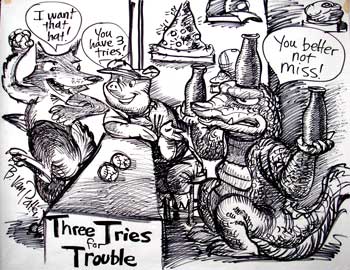 The four ingredients: a wolf in an amusement park who wants a hat and faces an alligator
The story: our wolf hero wants to win a hat at a booth at an amusement park. He has three tries to knock down three bottles. But he better not miss! I feel bad for the alligator -- that's a tough job!
---
Workshop fun!
Check out these stories which all came from our 45-minute workshops:
A monkey prince has to watch his little cousin. The problem is that the little monkey wants to tag along with the prince as he steals things from the jungle animals. The cousin then steals the food from the fire-tortoise thinking he'll be like the prince.

But the little monkey eats the food and becomes fire-breathing, too! Now the monkey prince has to make him fall into the pond to put out his fire and teach him a lesson.
This is a wonderful story about a young man on a farm who wants to be a wizard so that he can free his missing mother from a locket. He goes on a quest to find a wizard who can help.

But the road leads him back to the farm because his father turns out to be the only one powerful enough to undo the spell. His father used to be a great wizard until by accident he imprisoned his wife in the locket.

Now the two of them will have to work together to undo the magic!
Finally, here is a superhero boy. Well, at least, he thinks he has superpowers as he rides his bike around town, his cape flapping out behind him. But his older brother is tired of the little kid's fantasy. So he leaves him a note that says, "Help me!" And the superhero boy sets off on a quest to find the person in need.

We had fun thinking of the kinds of problems the kid could accidentally solve on his quest. Here, he's resucing the brother's girlfriend from a rampaging lizard!
I hope I convinced you East Brook students that you do have great stories inside you. Thanks for working with me in creating some interesting tales today.

Keep up the good work!
And while you're here, check out the fun stuff on my site!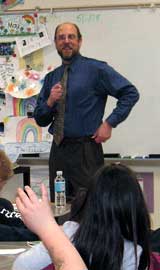 In addition to all the free material on this site, I have downloadable books that are perfect for keeping kids writing in school or at home!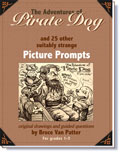 The Adventures of Pirate Dog
Picture prompts are a great way to inspire kids to write! Here are 26 of my best drawings with fun, pre-writing worksheets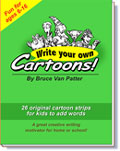 Write Your Own
Cartoons!
Kids can add the
dialogue and their special touches to my funny comic strips filled with wacky characters!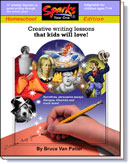 Sparks: Year One
Here's a fantastic resource for teachers: a whole year of weekly creative writing lessons built around wacky holidays!