Same kids, different school! It was a real pleasure to visit this brand new school and see the kids I met with last year, when we wrote stories. This time, we talked and imagined about persuasive writing!
The assembly drawings

The combination: genius kids and caving

The verdict: There were good arguments on both sides. Some thought that a genius kid would learn so much that he would put a science teacher out of work!

Others thought that such a smart kid would be able to discover a kind of cave monster and know how to treat it. In the end, that's what we voted for. YES, it's a good idea to let genius kids explore caves.

Just don't let them tell a super-long report about it!
---
The Workshop Stories
Our topic: a girl who always wants to vacation and inventing robots

Our assignment: non-fiction book report

This interesting combination quickly gave us a great idea for a non-fiction book: how to invent robots that will help you in different vacation spots.

It was written by a woman who always vacations, but also invents, so everywhere she went, she created a robot to help her. For instance, an umbrella robot for the jungle and a shark robot for the beach (to scare away other tourists).

We thought up pros and cons about the book but in the end decided that the robots were so cool, we had to like it. It's a science book and a travel book all rolled into one!
---
Our topic: a dinosaur hunter that likes to go hunting

Our assignment: a fiction book report

With this kind of persuasive writing, we first had to imagine the book. As we thought about it, it became a kind of Indiana Jones adventure.

Our hero parachutes into a remote jungle to look for dinosaurs. He thinks he's on a movie shoot and the cameras are really well hidden, but in fact, he's coming face to face with real dinos!

We decided that despite the silly humor in the story, we liked the adventure and that it started with a bang -- him jumping out of the plane. That's why I put the quote I did on the poster.
---
Our topic: a pop singer experimenting with electricity

Our assignment: a travel brochure

To give us a sense of place, we spun a globe and came up with an island off of the coast of Antarctica!

Here, the singer, Penelope, has created a resort where people can sing with penguins! She found that using electricity and super cold icicles, she can amplify the sound to help us hear the voices of penguins.

Who knew they were such good singers?

In the end, we liked the idea, so I created a poster that could look a bit like the front of a travel brochure. I liked the suggestion of Ice-Ice Baby as the song, though it really doesn't have much of a melody.
---
Our topic: a gym teacher taking a cooking class

Our assignment: an essay on a historical figure

Why would a gym teacher take a cooking class? We decided it was so that he could "cook" up a new sport.

This guy (we made up his name in a crazy, random way), invented the Splat Games, where different kinds of fruit are pitched and the batter hits it with various sports equipment to try to create the best splatter.

We brainstormed both pros and cons. Kids were really good at thinking of reasons why this would be a bad idea.

In the end, I drew a picture of Darlington celebrating his invention. He's just happy that kids get a taste of some healthy food, even if it is just a random splattering of fruit and veggies.

After the class, one girl asked me why he had to go to a cooking class for this. I think we lost that concept along the way, but I'd think many veggies would splatter better if they were cooked first, don' you?
Want to motivate young writers in your life?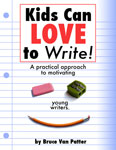 This book can help!
I've collected 39 of my weekly emails to teachers on creative writing into one downloadable book. Kids Can Love to Write captures the essence of my approach to making writing fun for kids. Whether you have an enthused young writer or one that needs big motivation, this book will show you how to get the most out of their imaginative minds.
Find other creative writing helps at my store!
---
New on my site!


I love random connections! Here's a page that will create random What If Questions to help you start stories!
So, Evergreen kids, did I persuade you to think of persuasive writing as fun? We sure made up some strange topics for thinking pros and cons for. When you decide on a topic for yourself, I think it won't be as silly as today's ideas. That's okay. Remember, the real fun in writing persuasive essays is the idea that you can help open up the minds of your readers. Your ideas can give them a view on a topic that they may never have had before.

I think that's really incredible.

Remember... you have great ideas. Share them!