We had a great time inventing stories today. Take a look at these!
The assembly stories
This was a huge new step for me. I drew these two assembly drawings on my laptop and had them projected as they were drawn. New things can be a bit scary, but creative people know that taking chances is the best way to discover things. I did learn a lot from trying this!
The four ingredients: a detective in a haunted room looking for an armadillo with a dinosaur sidekick.

The story: our hero wants to prove that a room is indeed haunted. His pet dino helps him to find the closet where the ghost is hidden -- an armadillo ghost!

I decided as I worked on this later to make the house belong to a cowboy -- you can see him on the wall -- who ran over this armadillo in his pick-up truck. The armadillo has been haunting the ranch ever since!
---
The four ingredients: an alien in a bank looking for a fish being tracked by an evil guy in a Darth Vader helmet.

The story: I try really hard to stay away from anything that's clearly from another character or story. But I thought it would be funny to show this geeky alien tracker wearing a Vader-like helmet as he follows this alien into the bank.

Apparently, the alien's fish has been advertised as a give-away for a new account. He needs his fish to provide the power for his spaceship. I thought "Zippy" would be an appropriate name for him.
---
Workshop fun!
Check out these stories which all came from our 45-minute workshops:
We started this story with a doodle of a girl turning her head away. From there we imagined this was an alien young woman who falls in love with a human. The reason she's turning her head away is that you can tell she's an alien by the little planet that's visible in the pupil of each eye! Cool!

So she breaks into a lab to become a human. All she has to do is eat some milk and cookies. What? Well, it was a creative idea and seems about as normal a human thing to do. The boyfriend is trying to stop her.
This story had a really interesting setting -- a remote island which is being guarded by a circle of growing giant toadstools. This guy is trying to rescue a princess from the castle on the island, but as they're trying to escape, she gets trapped by the toadstools.

Good thing our hero is actually a time-traveler! He sets his watch to go back in time to try again. Hope he has better luck this time!
This may be my favorite drawing of the day simply because of the challenge of drawing two pirates who actually look like brothers. The story has to do with a magical creature the pirate on the left has found, but now his brother has captured it and wants to use the magic against his younger brother.

I was really proud of the kids in this session that they were able to get past all the usual pirate stuff -- well, except for the peg leg. Still, it was a creative story!
Here's an interesting combination: a detective and cooking. Two friends have a recipe for a chocolate pizza. Each of them carries half of the recipe. They hope to open a booth at a carnival and get rich with their rich dessert.

But another booth owner, Mac of Mac's Snacks, kidnaps the detective boy's friend to force our hero to give over the other half of the recipe. Our hero seems to be giving up -- but wait! He's altered the recipe! He added one small extra ingredient: chili powder! That ought to spice up this story!
What a great day! I really enjoyed the flow of ideas generated by you Gov-Miff students. I hope you had as much fun as I did.

Keep up the great work. You know you have stories in you just waiting to come out. Now you need to write them down, or draw them so that your friends can get in on the fun.

And hey, while you're here, check out the fun stuff on my site!
Assembly Doodles
As the kids were leaving the first assembly, one of the members of my student "Doodle Team" came up to ask me if I would put these on the web. So, here they are. Crazy fun, aren't they?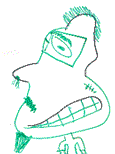 ---

In addition to all the free material on this site, I have downloadable books that are perfect for keeping kids writing in school or at home!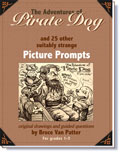 The Adventures of Pirate Dog
Picture prompts are a great way to inspire kids to write! Here are 26 of my best drawings with fun, pre-writing worksheets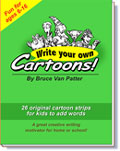 Write Your Own
Cartoons!
Kids can add the
dialogue and their special touches to my funny comic strips filled with wacky characters!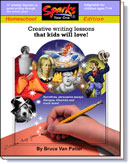 Sparks: Year One
Here's a fantastic resource for teachers: a whole year of weekly creative writing lessons built around wacky holidays!