My visit to Green Ridge!
We had a great time inventing stories. Look at these!
The assembly drawings

The four ingredients: a zookeeper named Hugo in a grocery store looking for his friend with a silly sidekick of a chicken

The story: Hugo found a strange egg, which he cares so much about, he thinks of it as his friend. He's even drawn a face on it. He gives it to his sidekick, a chicken, to keep it warm so that it will hatch.

But the chicken one day disappears with the egg. Where has she gone? She has taken the egg to the grocery store, where she noticed heat lamps.

Hugo sets off to find her, thinking that she has sold the egg to the grocer. While he's accusing the lady, the egg hatches with quite a surprise for everyone!

---

The four ingredients: a cat named Tom at Hawaii looking for a moon rock up against a chicken

The story: Two chickens in two assemblies? No problem! This time I made the chicken a rock scientist who keeps telling Tom, the cat, that his "moon rock" is really just hardened lava from the volcano. He tells Tom that the elephant who sold it to him lied and cheated.

The chicken is going to put the rock back into the volcano. This makes Tom upset. But just as he's going to get the rock, the elephant trips him. Why? Because he wants to get rid of that trouble-making chicken once and for all!

Ooo, that's one mean elephant!
This story is about a lizard that is somewhat of a bully. He once found a waterfall in the woods that was so much fun to play in, he calls it his waterpark. He decides to take a girl lizard to it to show her how cool it is.

But he's so bossy on the way, the girl goes off on her own. She actually finds the waterfall first, but she doesn't know about the dragon that lives BEHIND the falls!

Our pushy lizard hero shows up just in time to save her.

For once, his pushiness is going to be a good thing!
---
This girl is trying to become a wizard. She even has used a spell to make her blanket come to life. In this story, she sets out to help her poor, farming family. But she doesn't really know how to use her powers.

For instance, here, she's levitating what she thinks is a pig for her father to keep. But instead, she's brought a wild boar!

A fun story!
---
Adn in this tale we have a young man who collects strange items. Why? Because he's trying to capture an alien he once found, one that keeps transforming into other objects. He can't be sure that he's caught it, so he puts all kinds of things into jars to see if anything turns back into the alien.

Here we see that his girlfriend is trying to get him to release the alien. The boy knows that the alien is just trying to trick her.

And the squirrel is going to have to save the day, I think.

However, I am not happy at all about my squirrel drawing. That's the problem with drawing without sketching. Sometimes the drawings work, sometimes they don't.

Still, I like the alien. And for once, I got the girl to look cute!
---
Want to motivate young writers in your life?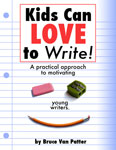 This book can help!
I've collected 39 of my weekly emails to teachers on creative writing into one downloadable book. Kids Can Love to Write captures the essence of my approach to making writing fun for kids. Whether you have an enthused young writer or one that needs big motivation, this book will show you how to get the most out of their imaginative minds.
Find other creative writing helps at my store!
---
New on my site!


I love random connections! Here's a page that will create random What If Questions to help you start stories!
---
---