I'll tell you who has great ideas... the students at Green Valley!

This owl was just one of a whole wall of amazing owls that kids at Green Valley did in their art class. When I saw them, I knew that these kids had active imaginations!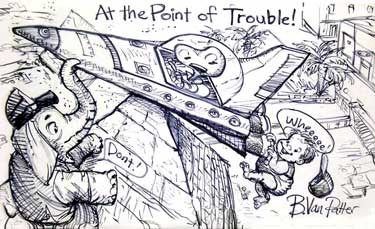 | | |
| --- | --- |
| | The one assembly came up with a fantastic setting: the pyramids of Egypt! Cool! And I've been there, so I got to tell kids what surprizing thing is right across the street. Here, an elephant babysitter is trying to save the baby AND the alien whose ship has landed right on the point of a pyramid! |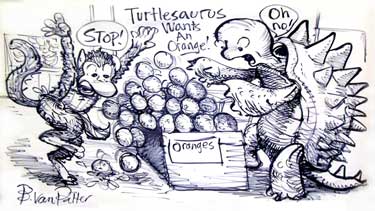 | | |
| --- | --- |
| | The other assembly came up with a new kind of dinosaur -- a Turtlesaurus -- who wants oranges to make his holiday meal special, but the manager monkey of the grocery store wants him to leave! I thought a nice ending would be if the turtlesaurus invited the monkey to the dinner, and the monkey brought the oranges as a surprise. |
Fun Workshops
Throughout the day, we met in workshops and brainstormed the stories in the column on the right. In one session, a teacher volunteered to hold the paper for me as we dreamed what the squiggle looked like. Thanks for the help!

---

It's always fun when kids are being creative!

I love the excitement of dreaming up stories. Anything can happen. There can be old ladies who are great at baseball. There can be flying pigs, magical chess pieces, genius gerbils, and new kinds of dinosaurs who shop for oranges! But that's not all. There can be no end to story ideas. And that's my message to kids. Stories are fun to make up. Writing them down and drawing them are just a way to share them with others.

I hope you all had as much fun as I did. Remember, you are creative!

And while you're on my site, make sure you check out some of the wacky things I have on here. A good place to start is on my fun stuff page. Enjoy!
| | |
| --- | --- |
| Stories from the minds of Green Valley students! | |
| | |
| Just so you know that I'm willing to draw things without knowing what they look like, I tried doing a story about a gerbil for a kindergarten class. In this story, our gerbil hero escapes his cage and lets out his friend, the frog. Watch out for that cat! | |
| | |
| But working together, they trick the cat into running outside. Now they have the whole house to play in! | |
| --- | |
| | |
| A magical woman in the story above is playing a wizard in chess. If she wins, he's promised to make her an official wizard! (My sons tell me this is very similar to Harry Potter... Oops! I try to avoid using ideas already in movies and TV shows.) | |
| --- | |
| | |
| A nice girl named Niki came up to start off our character in this story. She was sure she couldn't draw. In the end, I think her woman looked WAY better than mine. This old woman may be the worst drawing I've ever done in a school! But the story was fun -- a really clever tale of neighborhood kids getting revenge on an old lady. Or do they? | |
| --- | |
| | |
| Yes, pigs can fly. At least in this story. This pig is actually a boy who was turned into a pig by a magic spell. He's trying to find the magical person who did this to him, but the journey is long, and he has to land from time to time. Maybe he should have looked before landing in the middle of a barbeque! | |
| | |