Like I told the kids while I was in this fabulous school, I've seldom been in a place where so much writing is going on. As I walked the halls, I was so impressed with the stories that were up on boards. There were so many kinds of stories, and many of them had illustrations.

This is my kind of school! And each assembly gave me teams of creative kids.
For instance, here I am drawing the first Imagination Team's story. An amusement park is built right next to a zoo, where a monkey grabs things from a passing roller-coaster. This bear has come back to get his stolen puppy!

| | |
| --- | --- |
| | lI love the idea of putting a story in an amusement park. That's a great setting! |
In our second story, we had the elements of a wizard who can change himself into things and wants money, in a castle with a girl elf sidekick . So my idea is that this poor wizard listens to the elf, whose plan for making money is to transform him into "The Beast of Blackmoor" and charge admission. But she messes up his spell and, well, he's not exactly beastly, is he? Perhaps he just has a beast of a temper!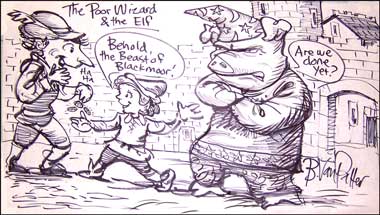 Crunch-Vine VS. The Spikenator

In one of our Davinci Doodles games, two guys came up with these two scary creatures. What a cool face-off this would be! But what if they were in a different kind of contest -- what would it be? A singing contest? An acting contest? A bake-off?
Then the rest of the day was spent in workshops, read all about them in the column to the right.
I've had some wonderful emails from teachers since I met with you all. I'm excited about what you students will continue to do.

You are creative! And creative writing is fun! Keep those ideas flowing. And remember to share them with someone.
And don't forget to check out the pages of writing fun I have on the site. Start with the links below, or go to my page of fun stuff. And remember, if you finish one of the stories at The Story Kitchen, let me read it! I'll tell you what I like about your ending!

Let's Get Creative!
The wild, wild workshop!
Eager kids, bright ideas, and a willing illustrator = fun stories! Check them out!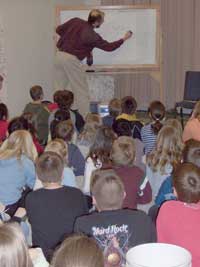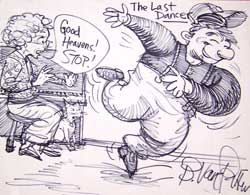 When 5th grade was creating this story, we had a hard time getting a handle on it. Only when I was writing The Last Dance, and someone added an R, did it come together. The Last Dancer tells of an awkward guy who lives when nobody dances any more. But he's teaching himself when he learns that the last dancer is still alive! So he goes to show that he's good enough to be her student. In fact, he's so BAD, she takes him on.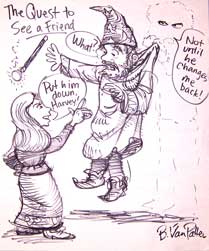 The Quest to See a Friend is perhaps not the most detailed of stories. We just had an idea of a girl trying to get to a castle where her invisible friend might get his spell taken off. But I was glad for a chance to make a reference to a great old movie: Harvey. I love that movie.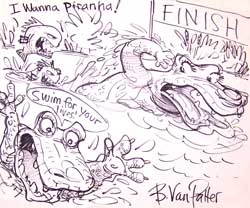 This is a funny tale. A crocodile wants to win a swimming race. The problem is, she can't swim well. So she gets some piranhas to chase her across the finish line. I had to wait to write the title, because I couldn't remember how to spell piranha!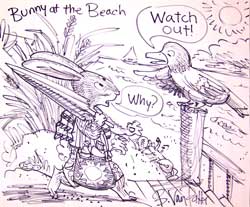 Kindergarteners helped me come up with this story about a bunny at the beach, who makes friends with a mean crab by saving it from an even meaner shark!