This was a busy, busy day -- filled with off-the-wall ideas of Hatfield kids! Just the way I like it!
The assembly drawings
Check out these stories:
The four ingredients: a dog on a roof looking for a fish up against a wolf

The story: One day a wolf comes sneaking into a dog's house. The wolf loves to eat fish, but he's not much of a fisherman. (Or should be a fisherWOLF?) So he slips into the dog's house to steal the pet fish.

But the dog hears him, so the wolf climbs out onto the roof. Just as he's about to leap off,t he dog tells him not to move.

Why? Because the dog has his TV connected to the fish bowl and now he's getting better pictures on his TV! I like the thought that they can watch fishing shows together!
---
The randomly combined persuasive topic: F.B.I. agents and playing with electricity

The reason the adience voted PRO: Kids came up with a number of reasons pro and con. But the one that really captured their imaginations was, "If FBI agents could play with electricity, they could invent a robot chicken that could shock and capture crooks."

It's hard to vote against robot chickens!

So I started this drawing on my computer in front of the kids, and finished it later. This drawing is to be the ACTION STEP for our persuasive argument.
| | | |
| --- | --- | --- |
| The Persuasive Workshops! | | |
The randomly combined persuasive topic: Archeologists and Jumping Rope

The Persuasobox gave us: an book review

I was so glad we got a book review, so that I could help the kids do a quick walk-through for a narrative story. Here's what we came up with.

An archeologist wants to find the origin of Jumping Ropes. His search takes him to a desert, where he unearths an ancient chamber filled with dusty ropes.

But when he pulls one, he unleashes the Rope Monster, as all the ropes swirl around into a giant, menacing shape! How cool and scary!

In the end, as we talked about what might be good and bad about the movie, I think this scene sold the film to the kids. They voted to like it.
---
The randomly combined persuasive topic: Doctors and Designing Houses

The Persuasobox gave us: a letter to the editor

We had such a good time thinking up not only the name of the dog and the newspaper, but how a house could be healthy for a dog.

In the end the kids voted to not trust the dog. As I drew, I decided to make Dr. Dog actually a cat, who was designing a "healthy house" for dogs just to tire them out with all the exercise and gadgets that would go wrong.

There were so many original and fun ideas in this workshop!
---
Want to motivate young writers in your life?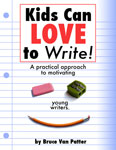 This book can help!
I've collected 39 of my weekly emails to teachers on creative writing into one downloadable book. Kids Can Love to Write captures the essence of my approach to making writing fun for kids. Whether you have an enthused young writer or one that needs big motivation, this book will show you how to get the most out of their imaginative minds.
Find other creative writing helps at my store!
---


I love random connections! Here's a page that will create random What If Questions to help you start stories!
---
Here's a picture of me drawing on my computer while the kids watched in the assembly. It's always a bit tricky for me to do this, but when I'm inspired by such weird topics (and I mean that as a compliment!), I can't wait to get their ideas down for everybody to see.

So I hope I've shown that persuasive writing and creative writing can both be places where the imagination can shine. Whatever kind of writing you do, remember, Hatfield kids -- you have great ideas that are worth sharing!

While you're here, check out the fun stuff on my site!