The assembly stories
The four ingredients: a bear in the woods looking for a fish (or honey!) up against a mouse

The story: Judy, our main character, is a hungry bear. She's planning a party and wants to make her favorite dish -- fish with a honey glaze. She knows where the bee hive is and now she only has to catch the fish.

But the fish she catches is not just any fish! It's the friend to a mouse, who likes to feed it wildflowers. So when Judy pulls up the fish from the water, the mouse leaps onto it and demands Judy to put it back.

Poor Judy! What will she serve to her party guests? How about wildflowers with honey?
---
The four ingredients: a magically strong guy named Jason in the Grand Canyon up against a football player

The story: our hero has gone with his class on a rafting trip down in the Grand Canyon. But when they get into trouble, he wants to help. The mean bully football player pushes him around and makes fun of how weak he is. "How are you going to save us, skinny?" says the bully.

But Jason meets a magic gopher who gives him super strength if Jason will carry him to the top.

Easy enough, you think? How about with a jealous football player hanging on for the ride. He wanted to show his strength, too, but he gave out too soon!
The workshop stories
We decided that this fun doodle on the right was an elf who had escaped elf prison and was living among humans. He's trying to transform human children into slave elves to work for him. And along the way, he's trying to impress a human girl he likes.

The problem is that a little girl seems to be able to break his magic.

So when our evil elf brings his potential girlfriend over to show off his mansion, she doesn't realize that he's just conjured it up out of an abandoned cabin. But she will when the little girl undoes his magic.

Then comes the biggest surprise: the girlfriend is actually an elf CIA agent, looking for the escaped elf!
---
I tried to steer third grade away from doing a carrot story just because our main character was a rabbit. but when someone said that our bunny hero was afraid of a pair of pants, I had the idea to make the bad guy a carrot that split into two points and went around wearing pants. He wants to get rid of our hero so he can take over the farm.

Our bunny has tracked him down while searching for the girl bunny he saved once. The search led him to Dr. Carrot-Pants' secret cave under the barn.

But it looks like the evil carrot was expecting our hero to show up.

Our hero can't quite see the danger he's in because he never wears his glasses. He thinks they make him look nerdy. But he'll need them to defeat this veggie villain!
---
And finally, in this tale, we have a girl spy who has a treehouse with a secret compartment. She can unlock it to get to a space inside the hollow tree. She doesn't realize, but it can be magical. Sip the sap and it will transform you. That's what happens to this snake. It was once a boy she liked.

So our spy girl is trying to get the snake back into the compartment to learn the snake's secret. He knows that her dad is about to cut down the tree! Apparently, her dad has evil plans to use the magic wood to make his own dangerous magic!
---
Want to motivate young writers in your life?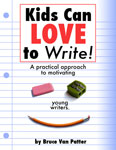 This book can help!
I've collected 39 of my weekly emails to teachers on creative writing into one downloadable book. Kids Can Love to Write captures the essence of my approach to making writing fun for kids. Whether you have an enthused young writer or one that needs big motivation, this book will show you how to get the most out of their imaginative minds.
Find other creative writing helps at my store!
---
New on my site!


I love random connections! Here's a page that will create random What If Questions to help you start stories!
---
Those were amazing stories! Great job, everyone. I told you that great stories were ready to come out of your imagination. And yes, it's much harder to write a whole story than just to talk about one. But the greatness of your idea is what you need to keep in mind while you do that hard work. Your stories are worth finishing so that others can enjoy them, too!
Remember, kids: use your creativity. Keep writing. Keep drawing. Don't forget how much fun it is to get your own ideas out and onto paper!
And check out the FUN STUFF I have on my site. Click the button below!