My visit to Jonestown Elementary!
Jonestown kids have ideas to spare! Look at the interesting range of stories they invented today.
The assembly drawings

The four ingredients: a horse in a forest looking for a vase up against a dinosaur

The story: This is an adventure horse, who likes to go off to find out ancient treasures. He's heard that somewhere in a pine forest is a vase with stalks of wild oats -- a breed of oats no horse has ever tried.

So he's climbed what he thinks is a hill. Imagine how surprised he'll be when he realizes he's actually on a dinosaur!

I tried to make the title sound like a new kind of Indiana Jones movie.

---

The four ingredients: a ninja-spy-astronaut in a cow pasture wanting french fries with a silly sidekick of a scruffy cat with a horn

The story: A farmer thinks he's an amazing ninja. He brags that he could do such an incredible ninja leap, he could probably put himself into orbit. But the farm animals all know him to be a lazy, fast-food-eating braggart.

So this cat decides to see how great the farmer's jump is. He lures him into the barn loft and gives him a blast with his air horn! (That's not the kind of horn I think the student meant, but that's what we call artistic license!)
The workshop stories

| | | |
| --- | --- | --- |
| | | Here's a story that flowed out of one great doodle. The boy who did this needed a little help with the unicycle drawing, but the idea was all his. |

We dreamed up a story where this fire-breathing dragon joins a circus, but his fiery breath keeps getting him into trouble. He only breathes fire when he's nervous, so an old guy at the circus gives him what he describes as a glass ball with fire inside. It's actually a marble!

In the drawing, you can see how upset he is that he's lost his marble. I wonder what will happen next!

---
| | | |
| --- | --- | --- |
| | | This guy on the left is a college student who is a whiz on computers and studies mythical animals. He tells a girl he likes that he has actually traveled back in time to train a cyclops. She, of course, doesn't believe him. |

So, he takes her back to show her his trained cyclops. But the cyclops has apparently forgotten all his lessons. The girl, in the meantime, is in such a state of shock, she thinks it's all a computer effect!

---
This is such a great character doodle. It took two students: one for the face, and one for the arms. You can see the girl drawing the arms in the photo in the column on the right.

We imagined a story about a guy who stole a train years ago, then one day comes to a mysterious train station that's not on the map.

His train is out of coal, so he goes in to get some. But to his shock, who's hiding in the coal? The ancient train engineer from whom he stole the train!

---
| | | |
| --- | --- | --- |
| | | The girl who drew this bear gave him a pointy nose, but we decided to make it a carrot. And that got the whole story rollng! |

We sent a bear on a quest to find a magic carrot. Why? Because he's a vegetarian. Also, he thinks if he eats it he will never be hungry again. But the truth is, whoever eats it will turn into a giant bunny!

So here are the rabbits trying to help him, but he thinks they're just protecting their precious carrot!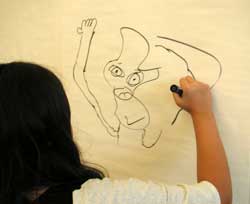 Here's one of my student doodlers!

In addition to all the free material on this site, I have downloadable books that are perfect for keeping kids writing in school or at home!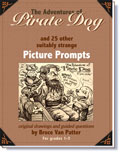 The Adventures of Pirate Dog
Picture prompts are a great way to inspire kids to write! Here are 26 of my best drawings with fun, pre-writing worksheets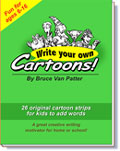 Write Your Own
Cartoons!
Kids can add the
dialogue and their special touches to my funny comic strips filled with wacky characters!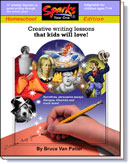 Sparks: Year One
Here's a fantastic resource for teachers: a whole year of weekly creative writing lessons built around wacky holidays!