It's always so much fun to visit my home-town elementary school. Today, as I worked with second grade kids, I looked down to see many faces I know from church, coaching soccer and from the community. Lewisburg kids are great kids!
The workshop stories
What made us think of a lion with an electrical cord for a tail? The doodle that a girl did for us of a lion had a tail that looked like a plug! So we started thinking about an electric lion on a quest to the top of a mountain.

He's after the wizard elephant that turned him into an electric lion.

What I've drawn here is our lion hero, just about out of power, lying down. (Or is that LION down?) The wizard thinks it's safe to come over, but the lion has a shocking surprise for him.

When he touches the elephant, it makes the elephant turn electric and makes the lion turn back to normal.
---
Let me tell you, it's not easy drawing a girl hanging upside down! Especially when all the kids kept calling out that it was a boy! I think she looks more like a girl now.

This girl is trying to get a key to her house back from squirrels that took it when she lost it in the park. The squirrels have other ideas. They hope to get into her house -- there's something in there they want.

Evil squirrels. It's funny, but that's a common story element that comes up as I work with kids. There's something about a mean, scowling squirrel face that makes kids laugh.
---
This is what I love about making stories with kids: you never know what will come up. Here we have a piano playing dog who is trying to play a concert, but an evil mouse has created a piano that takes away his talent with every note he plays!

When I was growing up, I took 13 years of piano lessons, so I know how frustrating it is to be in a recital and play a wrong note!

Only, I couldn't blame it on an evil mouse!
---
And finally, there is this story. I don't usually do sports stories, because they can only have two endings: a win or a loss. But this story is about a turtle that has his glasses stolen by a mean rabbit. The rabbit shows up with them across a soccer field where there is a game going on. The poor turtle has to cross the field and not get mistaken for the ball!

In the end, it's not the turtle that gets kicked. I wonder if the goal counts if there's a bunny hanging onto the ball.

This one was a really fun drawing to do!
Remember, Lewisburg kids, you have fantastic ideas. I had such a good time with you today. I hope you'll keep making up stories in school and in your home.
And I'll see you around town!

In addition to all the free material on this site, I have downloadable books that are perfect for keeping kids writing in school or at home!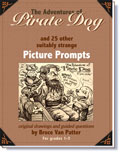 The Adventures of Pirate Dog
Picture prompts are a great way to inspire kids to write! Here are 26 of my best drawings with fun, pre-writing worksheets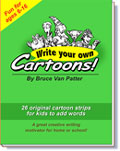 Write Your Own
Cartoons!
Kids can add the
dialogue and their special touches to my funny comic strips filled with wacky characters!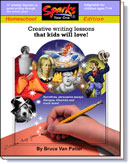 Sparks: Year One
Here's a fantastic resource for teachers: a whole year of weekly creative writing lessons built around wacky holidays!