The Assembly Creations
The four ingredients: a dragon in a school looking for a wii to play up against a lion

The story: First, I have to say that I misunderstood what the student gave me for the want. I thought he said, "Looking for the lead in the play." And since I think drawing characters playing video games is boring, I decided to go with my idea.

So, here we have a dragon who comes to school and has a hard time making friends until he gets a chance to shine in the school musical. Everyone thinks he's amazing. Well, almost everyone.

A kid lion who is used to being the lead in the play decides to defeat the dragon and makes a knight costume for himself out of things he found in the janitor's closet!
---
The randomly combined persuasive topic: Ghost hunters and softball

The reason the adience voted PRO: They liked the idea that a ghost hunter could trap a ghost of a great baseball player by using some kind of paranormal softball.

As I drew, I expanded the concept to be that the ghost hunter is trying to catch the spirits of classic baseball players -- like Babe Ruth -- and transfer them into collector baseball cards!

This was a very strange and tough combination, and I was worried that the students might not be able to come up with reasons for and against. But they did!
| | | |
| --- | --- | --- |
| The Persuasive Workshops! | | |
The randomly combined persuasive topic: Monsters and Knitting

The Persuasobox gave us: an essay

Essays are often about a historical event or person. So we decided to think of an ancient monster who invented knitting. We gave him the name O'Connor Atkinson.

As we brainstormed, we decided that , like King Arthur, this monster should be wrapped in legend. So we put him in the Scottish highlands, where he lived alone and was an object of mystery to the local townspeople.

Some he was a fearsome villain, who trapped people in huge knitted balls. Others say he was a kindly creature who left knitted sweaters and scarves for needy people in the dead of night.

The event that is the mostly hotly argued is when the Scottish king's castle caught fire. O'Connor, who was roaming the town that night, saw the flames and came to see what was burning. All agree that he knitted a rope for the king to escape. But some say that the monster was simply trying to kidnap the king for ransom.

The students in the workshop didn't agree with that. They voted to like the "monster" O'Connor.
---
The randomly combined persuasive topic: Snow boarding and cooking

The Persuasobox gave us: a movie review

The students in this workshop enjoyed coming up with a movie plot around the idea of a girl snow boarder who wanted to find a way to cook on the slopes.

There is a jealous snowboard dude who runs the lodge restaurant and lots of action and humor in the movie. But the ending is sad: she is injured in her final attempt and never finds a way to cook while boarding.

Kids were divided on the sad ending, but decided that overall, they liked the movie!
---
The randomly combined persuasive topic: a candy maker and outdoor games

The Persuasobox gave us: an essay

For the second time today, a workshop dreamed up a "historical" figure -- this time a kid candy-maker named Samerand, known as Sammy.

He invented a new kind of candy using sugar-like crystals from a mountain, shown to him by an old shepherd. We decided that some people would think this was a good invention. Others thought perhaps the candy would have some bad side-effects.

In the end the group decided that he was more bad than good. Despite his giving candy to poor kids, we didn't trust him!
Want to motivate young writers in your life?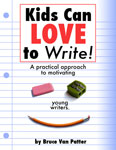 This book can help!
I've collected 39 of my weekly emails to teachers on creative writing into one downloadable book. Kids Can Love to Write captures the essence of my approach to making writing fun for kids. Whether you have an enthused young writer or one that needs big motivation, this book will show you how to get the most out of their imaginative minds.
Find other creative writing helps at my store!
---
New on my site!


I love random connections! Here's a page that will create random What If Questions to help you start stories!
---