The assembly stories
The four ingredients: A dog on a beach looking for food up against a chicken


The story:
A dog wants a beach barbeque, so he invites a chicken to come for dinner. Little does the chicken know that he means "come BE dinner!" But the chicken isn't worried. She's one smart bird. Just when the fire is ready, she puts something else on the stick. Surprise!

---
The four ingredients: A sailor at a school looking for a penguin with a silly sidekick of a dinosaur.


The story:
A wandering sailor found a penguin years ago and made him his pet. But the penguin wanted to go to Penguin School to learn how to be like all the other penguins. So he's escaped. Here you can see the sailor sliding after them. I goofed up a bit with the silly sidekick idea: the dinosaur is really the bad guy teacher of the school. Sorry!

The workshop stories
In this story, a sheep leads a very calm life in a barn. As one student put it, he has dignity. But when some strange monster shows up lurking in the shadows, the sheep does everything he can to escape, including skateboarding! Not a very dignified escape, if you ask me!
---
We started with this fabulous doodle of a guy stretching his arms. From that, we invented a boy who found a way to get charged with electricity. He goes off on a quest to find a friend. Seems that everyone in his town is afraid of him, thinking him to be an evil scientist. He eventually hears a girl crying for help in a coal mine. She's gone in to find her lost puppy and is lost in the dark.

Electric Boy thought he'd shed a little light on the problem.
---
Here's another wonderfully inventive story. A girl's parents have disappeared; she's being raised by her grandparents. She only has a pen left by her inventor father. The pen is amazing - it has a personality and can draw out a map to help her find her parents, but can she trust it? It seems to lead her into strange, dangerous places!

Just in case you were wondering, that's a zombie monkey in the lower corner. And I had nothing to do with that idea!

Finally, afternoon kindergarten came up with a story of a pig who goes outside to collect autumn things. He finds leaves, acorns, feathers and such. But the squirrels aren't happy about it. (I wasn't happy about misspelling "squirrel!" I had to white it out in the finish!)

There was one other picture in this series that showed the pig helping to build the squirrels nest with his collection.

| | | | | |
| --- | --- | --- | --- | --- |
| | | | | A fun day! I loved the ideas we cooked up today. I hope you were all inspired, kids, to put your own stories down on paper. And in honor of the name of your school, I'd like to share a limerick I wrote and enjoy: |
There once was a girl dressed in pink,
Who wore a live skunk for a mink;
She said, "It's humane,
And I hate to complain,
But this strange new perfume makes me blink!"


In addition to all the free material on this site, I have downloadable books that are perfect for keeping kids writing in school or at home!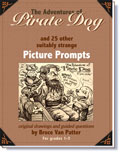 The Adventures of Pirate Dog
Picture prompts are a great way to inspire kids to write! Here are 26 of my best drawings with fun, pre-writing worksheets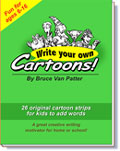 Write Your Own
Cartoons!
Kids can add the
dialogue and their special touches to my funny comic strips filled with wacky characters!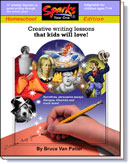 Sparks: Year One
Here's a fantastic resource for teachers: a whole year of weekly creative writing lessons built around wacky holidays!