To tell you about my visit, let me start with the ending. One of the last things I did in this fabulous school was stop by this classroom to see the "doodle drawings" they did. They each took simple line shapes, turned them into drawings and began to write stories about them. Imagine my pleasure while I walked around the room. I love to see kids excited about making stories. THIS is why I come to schools!

And actually in today's case, the schools came to me. I had a chance to visit with not only Montgomery's students, but Elimsport Elementary School's kids too! Two great schools in one!

Here are some other highlights...
The first assembly gave me the parts to make a story about a bear trying to get the magic wand of a wizard.

| | |
| --- | --- |
| The next assembly also threw a bear into the plot. Here, a rabbit tracks down his missing golden carrot to an undersea cave. | |

How about a little "light" drawing?
Our workshops were wonderful! You can see the stories we came up with on the right, but I wanted to show you a couple of the characters the kids created. See if you can match these drawings with the stories.

Remember, kids: you are creative! Keep writing. Keep drawing. Your ideas are just waiting to be shared with others!
Here's what teachers at Montgomery wrote about my time at their school:

"It was action packed... the teachers enjoyed "Whose Line Drawing Is It Anyway." I like the combining of creative ideas into one story and illustrating it!"
Read reviews from other schools.
A Flair for Making Stories
Okay, actually I used a BIG black marker, but these kids sure had some great ideas!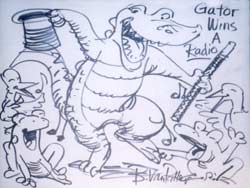 An alligator wants to win a radio so he can teach the frogs and birds to sing better... SO he can dance. So he enters a dancing contest. I had the kids sing to me as frogs and birds. Ummm, at least I think they were frogs and birds!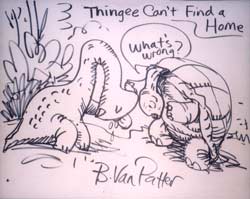 You have to feel sorry for a strange creature like Thingee. But in our story, a wise old turtle guides him to where his parents are waiting... for him to plug a volcano!!!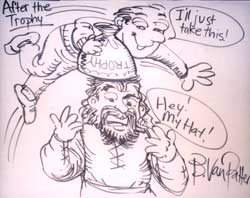 When a Viking mistakes a gymnast's trophy for his lost helmet, the adventure begins. Good thing this guy can jump, because he'll have one angry Viking on his hands!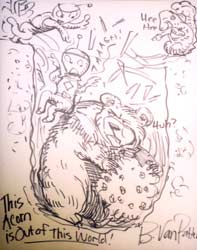 Okay, I'm not nuts about squirrels. But I am fond of this story, where a squirrel has to out-smart two invading aliens. Here, he lures them into a pit where he's got a berry-eating bear waiting.