Fast and furious! That was the flow of ideas today. Kids were coming up with so many ideas, I could hardly keep track of them all. Here are the stories we invented:
The assembly drawings

The four ingredients: a tuna fisherman on an island shaped like a basketball hoop made out of cheese looking for a monkey up against a frog/elephant who breathes fire

The story: That has to be close to the strangest combination I've ever had! I decided that this fisherman's pet monkey caught the aroma of cheese and jumped overboard. The fisherman went to rescue him. But while he was there, he saw something moving in the water and just couldn't resist -- he had to go fishing.

Looks like he's gotten more than he was ready for. The monkey was ready -- for some toasted cheese!
---
The four ingredients: a dragon on an island (I think... I can't quite remember the setting) looking for a friend up against a giant bat!

The story: Everybody is afraid of dragons, so our hero is very lonely. He flies and flies to a remote island where no one will bother him. When he gets there he goes into a cave and finds a giant bat!

The bat, it seems, is as lonely as he is. So he thinks of a new game to play with his new friend. But the bat doesn't seem very friendly.

I think the dragon would really like the bat as a friend, because the bat will always hang around!
The Workshop Stories
One day a teenage girl gets a strange gift in the mail: a bubble wand. When she tries it out, the bubbles come out beautifully and float away. But every time one pops, a cute bunny shows up in its place. Clearly, this is a magic wand!

But the bunnies start becoming troublesome. So the girl tries to track down all the bubbles she made and pop them before they put bunnies in bad places. Each time she pops a bubble, though, they get harder and harder to pop.

Who's the mastermind behind this strange gift? A boy who likes her! He really started this whole hare-raising tale!
---
This merman on the right wants to be crowned the king of the undersea world. So he enters a contest to rescue a princess from an undersea pool. The pool is in a great setting: inside a ruined city at the bottom of the ocean! The pool is guarded by a terrible monster. Just as bad, our hero's brother is also trying to win the contest!

This brings our hero to a tough choice. Someone has to distract the monster while the other one rescues the princess. Who will do it -- the nice brother or our ornery hero?

That's a great dilemma!
---
This story has a wonderful starting idea: a genii who lives in a mailbox! He's been waiting for a letter that will set him free. But the letter never comes?

Why? Because a friend he had once made has taken it!

So the genii transforms himself into a mailman in order to check all the mailboxes in an abandoned town, where he thinks his friend is hiding. The genii's only helper is a dog who he's befriended -- not hard for a mailman genii who's terrified of dogs!

When he corners the boy with the letter, the kids has no intention of giving up the letter, which he hopes to use to have power over the genii. Good thing the trusty dog is nearby!
---
Want to motivate young writers in your life?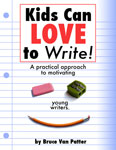 This book can help!
I've collected 39 of my weekly emails to teachers on creative writing into one downloadable book. Kids Can Love to Write captures the essence of my approach to making writing fun for kids. Whether you have an enthused young writer or one that needs big motivation, this book will show you how to get the most out of their imaginative minds.
Find other creative writing helps at my store!
---
New on my site!


I love random connections! Here's a page that will create random What If Questions to help you start stories!
So, thanks to everyone who made the day possible! Most of all, thank you, Montgomery students, for your ideas. I told you that you had great imaginations. Thanks for proving me right!

Remember... you have great ideas. Share them!

Take some time and explore my site. Start with "fun stuff" below. I think it will help keep your ideas flowing!