The Assembly Stories
The four ingredients: a horse in China looking for treasure up against a silly dragon

The story: This horse has come to China to find treasures. He's found a really cool vase, which he wants to take home. But he doesn't know it is actually the home of a Chinese dragon. The creature doesn't live INSIDE the vase. He lives ON the vase! He's part of the design come to life!

So the dragon tries to get the horse to go for something different -- a bowl of oatmeal?

I know it looks like a bowl of rice, but I was thinking how horses like oats, so I changed it. That's the fun of imagining: anything can happen!
---
The four ingredients: a monster in a forest looking for pizza with a silly sidekick of a baby elephant.

The story: Here's a guy who's gotten lost in the woods. He can't find his way out. But the longer he's in there, the scarier he looks. And he's getting hungrier and hungrier.

Then one day, a hiker came through. Our "monster" tried to get him to help, but he scared the poor hiker instead. The hiker accidently left behind his cell phone. So who does our hero call? 911? No way! He orders pizza.

The pizza guy finds him, but he doesn't know to look out for the old guy's pet -- an attack elephant!
The workshop tales
Here's a story about two brothers who try to outdo each other in magic. It seems that the older brother, who is better at magic, has been bragging about his trick where he makes a small dragon appear in his hand. The younger brother has a cool skill, too: he can read minds. At least, he's learning to. So he decides to try to read his brother's mind to figure out the dragon trick.

But the older brother doesn't want him to learn the trick, so he thinks of a couple wrong ingredients. Now look what's happened! The younger brother made something: a fire-breathing CHICKEN!

I love it. I mean, where else in this whole world could I get to draw a fire-breathing chicken in front of a live audience? I love this job!
---
This is a great story, too -- also dreamed up by 5th graders. In this tale, a bully finds his journal has been taken. Who took it? The neighborhood kids who are sick of him causing trouble.

Here's their plan. They find out from the journal that he likes a girl. So they lure the girl and the bully into an old, abandoned school house, where they release a very mean dog.

Ah, but our hero bully is actually a sensitive kind of guy. He loves dogs, particularly puppies. So he's going to calm down this mean mutt. And somehow, I think the girl is going to get the bully to change his mean ways. She'll bring that sensitive, puppy-loving side out of the mean kid.
---
A couple of final thoughts:
Hey, kids, do you believe me now? After such a fabulous day, I hope you believe in your ideas. Your imaginations are alive and kicking -- so use them. Get your stories and drawings down on paper and don't forget to share them with others. You need an audience just like me.
Thanks to everyone who made today such a great day. And thanks for the kids who drew so many great pictures of Farley and Edna. The one above on the right was one student's idea of the next book I should write with them -- when there's a whole city of houses for sheep!
Feel free to roam around the site. There are lots of creative things to keep your ideas flowing.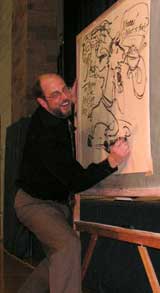 In addition to all the free material on this site, I have downloadable books that are perfect for keeping kids writing in school or at home!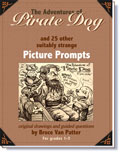 The Adventures of Pirate Dog
Picture prompts are a great way to inspire kids to write! Here are 26 of my best drawings with fun, pre-writing worksheets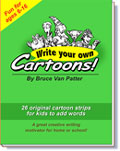 Write Your Own
Cartoons!
Kids can add the
dialogue and their special touches to my funny comic strips filled with wacky characters!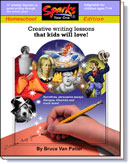 Sparks: Year One
Here's a fantastic resource for teachers: a whole year of weekly creative writing lessons built around wacky holidays!