This was my last visit in Royersford this fall, and just like the other schools, Oaks proved to be a very creative place. Just take a look at the stories we invented!
The assembly stories
The four ingredients: a tiger in a rocket ship wanting an ice cream pizza up against a cheetah

The story: You have to feel bad for our tiger main character. He's come all the way from outer space to get an ice cream pizza -- and he's forgotten his money!

I tried to make the rocket ship look like a giant ice cream scoop. I'm not sure if I got it quite right, but now that I mentioned it, can you see it?
---
The four ingredients: a brave girl in the street who wants a monkey up against a cowboy

The story: Our hero girl cares about animals. She roams the town on her bike looking for creatures she can help. So imagine her outrage when she finds a cowboy riding a monkey! She'll soon put a stop to this nonsense!

Do you like monkeys? Have you seen my page on monkeys in art?
---
Workshop fun!
Check out these stories which all came from our workshops:
This young man wants to be the prince. He lives in a cottage in the woods. But the troll who is the king has a magic scroll that gives him the power to rule. So the young man invites him over to see if he can steal it!

When the troll falls asleep, he hopes to slip the scroll out of the troll's hand. Careful now... don't wake him up!
Sometimes a great story can be suggested by the doodled gesture we start with. Here, we liked the diving boy and decided that he was being chased by his hat!

The aliens want to watch his brain patterns to better understand humans. He's just creeped out by his hat! So here, he's trying to escape the cap. In the foreground is the evil alien.
I love this doodle of the strong dog. What a fantastic gesture. It really got our imaginations rolling.

We thought about a dog who wants to impress a girl dog in an obedience school, so he goes to get her a house. That should have made her very impressed by his strength.

Except that the owner of the house, a chihuahua, is stronger than our strong dog! I wonder who will end up impressing the poodle?
These stories we made up are just the tip of the iceberg. Oaks kids are truly creative. There are a lot more stories hiding in their minds just waiting to come out.

Hey, kids, take some time to put your stories and drawings down on paper. That's the best way for others to be able to enjoy them.

Keep up the good work!

And while you're here, check out the fun stuff on my site!

In addition to all the free material on this site, I have downloadable books that are perfect for keeping kids writing in school or at home!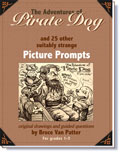 The Adventures of Pirate Dog
Picture prompts are a great way to inspire kids to write! Here are 26 of my best drawings with fun, pre-writing worksheets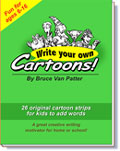 Write Your Own
Cartoons!
Kids can add the
dialogue and their special touches to my funny comic strips filled with wacky characters!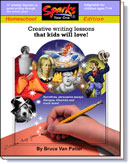 Sparks: Year One
Here's a fantastic resource for teachers: a whole year of weekly creative writing lessons built around wacky holidays!