That's the question on my mind in every school I visit. What will be the stories that kids think up while I'm there? And that's what I love about my job: discovering those stories. And the kids at Pequea Elementary had stories to tell!
Creative minds at work!

Teams of kids in each assembly let loose their imaginations as they played DaVinci's Doodles with me.

I always find it so interesting to watch kids find all kinds of different drawings in simple doodle shapes, and this game is a great warm-up for our workshops, where we turn a drawing like this into an actual character.

This story, from one assembly, a dog looking for a beach on a mountain. That's an interesting place to look for a beach. But I actually like to camp at Black Moshannon State Park which has just that: a beach on a mountain. Here, the dog has made a sand castle and a bunny who has some social problems (he thinks this is fun) destroys the castle. Will they become friends? Will the dog have a bone to pick with the bunny? I don't know. What do you think?

And in the second assembly, a Viking lets his silly sidekick -- a wolf -- plan out their vacation. The wolf, who doesn't understand technology, picks Danger Island. It's not a very friendly place, since there are giant spikes, holes that erupt lava, and rocks that come to life and rolls arter you! (I couldn't get the rocks in, sorry.) Anyway, it's hard to see this, but the wolf is wearing the Viking's diamond-studded iPod (the "want" a student gave the story) on his nose! I told you he doesn't understand technology!

Doodles turn into character drawings when kids have markers in hand!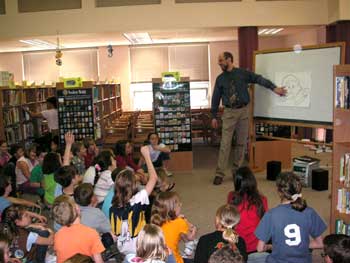 Thanks to everyone for their wonderful ideas. Because you were willing to exercise your imaginations, we were able to make some fun, fantastic stories.
Remember... you have great ideas. Keep sharing them! And try out some of the fun on my site. Start with the page fun stuff.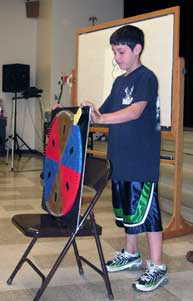 Hold that thought!
Just like my wheel, ideas kept spinning out. Check out these stories: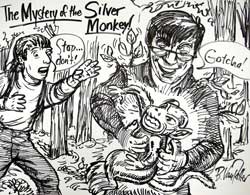 Sixth grade took a little time to get going into the brainstorming, but in the end, we had a truly interesting story about a seemingly homeless guy who actually has a PHD from Yale. He chances upon a magical forest in his wanderings, where he's competing with his old college roommate in trying to capture the elusive silver monkey. Whoever gets it will impress the girl they both love. But the trees in this forest move around, making it hard for our hero. In the end, his rival gets the monkey and more than he bargained for: grabbing the monkey turns him into a tree! That's where the walking trees came from!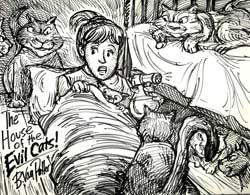 This story gave a different "spin" to the old "I-dare-you-to-spend-a-night-in-a-haunted-house" story. This girl is sleeping in an old inn, where mysterious things keep happening. She realizes it's the creepy cats! She has to fend off each one in a different way. We enjoyed thinking up ways she could escape and defeat her feline enemies.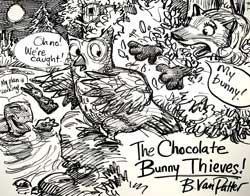 I think this is the first owl I've drawn in the hundreds of stories I've illustrated in schools. The owl has stolen this long-haired fox's chocolate bunny. But the owl only works for the real evil genius: the snapping turtle in the pond, who only is hoping to get the fox to be his friend. How's my owl?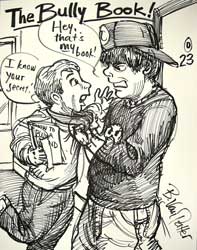 Some stories deserve better drawings. We were really running out of time by the time I drew this picture of a kid who finds out that the bully in his apartment building has interesting reading. Under the fake cover of "Bullying for Dummies" is a book about how to be a friend! Who knew? The one thing I wish I could do again on this drawing is the bully's hat. It looks more like an iron pot on his head!