The assembly stories
The four ingredients: a pirate under his bed looking for his shoe up against a clown

The story: First, let me say that a setting of "under his bed" is a wonderful, surprising setting. In our story, a pirate is looking to get dressed but can't find his boot. That's because a sailor on his crew -- known for being a joker -- has put an octopus in his hammock!
---
The four ingredients: an elephant in a city looking to play football up against a dragon

The story: A team is looking for a new quarterback, so an elephant tries out. He's back to throw a pass when the toughest defensive player tries to tackle him. Watch out for that dragon! Our hero has found a new way to throw a forward pass!
The workshop stories
Starting with this sketch of an elf, we imagined that in a small town there were two groups of magical creatures who were not getting along: elves and leprechauns. They each were keeping a low profile, but couldn't stand each other. In our story, an elf's mother is kidnapped by the leprechauns so that they can get secrets from her.

Here comes our elf to the rescue. He has a plan to deliver a pizza that will distract them long enough for him to rescue his mom. I think that pizza will take a bite out of the leprechaun's plan!
---
We all enjoyed the huge pants on this sketch, so we imagined a story where a boy wanted to become a clown in the fair that comes to town once a year. He is competing for the one opening.

The problem is that he fears kids. And watching him is a really bratty girl who keeps saying she's bored.

So our boy clown pulls out some bubbles and creates a new trick that not only takes care of the girl for a little while, it impresses the fair owner!
---
We had a great story flow out of this woman with a dog and an umbrella. She wanders a town, avoiding looking at people with her umbrella. Nobody knows why she's endlessly wandering.

The real reason: she's looking for her long-lost husband.

He was pulled through a portal into another world that is being guarded by a shape-shifting monster! She finds the portal in a bamboo shack, but doesn't realize the man she sees isn't really her husband -- it's the monster!
---
And finally, here's a great tale of a boy whose grandfather always told him about a lake monster he saw when he was young. When the grandfather dies and leaves him a watch, the boy takes it up to the lake to prove to everyone his granpa was right. But it's not so easy to find a lake monster.

After camping by the lake for weeks, the boy gives up. In frustration, he chucks the watch out into the lake. But the monster recognizes the watch! He comes out to show himself to the grandson of the man he once met.

How does the boy prove the monster is real? He takes a single scale from the beast back with him.
Well, Shady Grovers, that was an action-packed, fun day, wasn't it? I had a great time with you all. I hope you enjoyed making stories with me.

Don't stop now! You don't have to write finished stories all the time. Just put ideas down on paper. The trick is to keep writing and drawing. That's how you keep your ideas flowing.

Need some help getting started? Check out the fun stuff on my site.

In addition to all the free material on this site, I have downloadable books that are perfect for keeping kids writing in school or at home!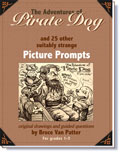 The Adventures of Pirate Dog
Picture prompts are a great way to inspire kids to write! Here are 26 of my best drawings with fun, pre-writing worksheets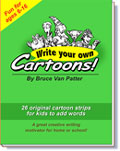 Write Your Own
Cartoons!
Kids can add the
dialogue and their special touches to my funny comic strips filled with wacky characters!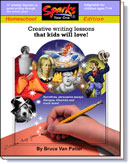 Sparks: Year One
Here's a fantastic resource for teachers: a whole year of weekly creative writing lessons built around wacky holidays!