Ideas were flying around today as we brainstormed stories. From our early assemblies to our evening show for parents and kids, amazing tales were being invented. What a creative school! And what a wonderful array of decorated doors!
The assembly stories
The four ingredients: a grumpy old man in ancient Greece looking for a friend with a crazy squirrel as a silly sidekick

The story: An old man in ancient Greece is very lonely because, frankly, he's not a very nice guy. But he meets a woman, who he considers a girl because she's so much younger than him -- but hey, everybody's so much younger than this guy. He wants to be friendly with her, but he's worried that she won't even think twice about him because he's old and bald.

What's his plan? To get his pet squirrel to curl up on his head like hair. But when the squirrel sees nuts in the woman's hand, well, he goes nuts for the nuts.

Later, I added the dog saying, "SQUIRREL!"
---
The four ingredients: a bunny on a road looking for carrots up against a pit viper

The story: When I drew this, I made it look like the bunny was walking down a road, heading for what he thinks are carrots. They're actually the fangs of the deadly CARROT VIPER!

It's always hard to find a way to make a snake an active character in a drawing because they have no hands! They can't carry anything. But when I heard the setting of a road, I knew how I would get the snake involved.
---
Workshop fun!
Check out these stories which all came from our 45-minute workshops:
I like the fact that the girl in this story is a pirate. She's not the typical bearded captain. In this tale, she has taken a magic turtle shell from a sea monster. The shell helps her tell the future. Taking the shell with her, she has quit the ship and is hiding in a harbor town.

But a pirate from her crew wants the shell for his shipmates who she betrayed. And in the drawing, you can see the giant sea creature wants it back, too!
What a great drawing of a mouse a student made on the right. I love the expression -- determination. Or is it that he is puzzling out a mystery. We thought that he should be a secret agent mouse who lives in a pet shop and has a CTS -- a Cat Tracking System. That way he always keeps clear of the cat who comes out at night.

But the cat kidnaps (catnaps?) the mouse's friend in order to get him to trade the CTS. What can the mouse do? He gives over his prize invention.

But little does the cat know that the mouse has trapped him in the cage of the fiercest dog in th store! So, who's the monster in the story -- the cat or the dog?
Look at the drawing on the right. Is he shielding his eyes? That's what we thought at first, but then one student suggested that he was reading his hand! So we came up with a story about a boy who wakes to finds threats written on his hand! He sets out to solve the mystery of who wrote the messages.

The palm-writer turns out to be a bully who has a secret lair under the playground. He wants a video tape the hero made of him bullying. So our hero hands it over.

But who's looking down from the hole above? The principal! And he's reading the message on the boy's palm: "You're toast!" I think that's true about the bully, now!

In addition to all the free material on this site, I have downloadable books that are perfect for keeping kids writing in school or at home!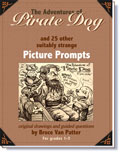 The Adventures of Pirate Dog
Picture prompts are a great way to inspire kids to write! Here are 26 of my best drawings with fun, pre-writing worksheets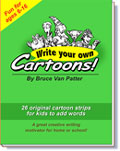 Write Your Own
Cartoons!
Kids can add the
dialogue and their special touches to my funny comic strips filled with wacky characters!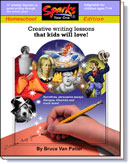 Sparks: Year One
Here's a fantastic resource for teachers: a whole year of weekly creative writing lessons built around wacky holidays!