In every school, I give kids this challenge: try new things. It's the best way to keep building up their ideas.
Just so that you all know that I practice what I preach, when I came in South Mountain Elementary and saw
the amazingly long drawing board for me, I knew I had to try something new. I did long drawings.
And sure enough, didn't one kid -- without knowing what I was going to draw -- chose the setting of the
Grand Canyon! Here are my two wide-angle pictures!
There was hardly room to budge when the kids all squeezed in for the first assembly. But there was plenty of space to think outside the box. Imaginations were free to roam as we talked about ideas then put some down on paper and transparencies.
| | | |
| --- | --- | --- |
| | | Here's just one of the amazing doodles. I wish I had time and space to put them all up. They were so cool. Each student thought up something very different with the same starting shape. |
And check out these fabulous drawings that were done by first graders in Mr. Leverentz's class. I must have appeared very tall to them as they sat on the floor. And the dragon is a Chinese dragon! See the Great Wall? And isn't that the coolest little snout creature? Wonderful!
Here are a couple of my workshop doodlers, who helped to get us started making a story. The drawings they make become the main character in our story.

Can you figure out which story goes with this goofy creature?
| | |
| --- | --- |
| I hope my drawings helped to make writing fun! Remember, YOU are creative. Put your ideas onto paper and share them with someone today! | |
Why not try out some of the activities I have right here on my site? You can find a list of them at fun stuff. Remember, if you want a great idea, have lots of ideas!

And after drawing that "dragon mummy" above, I found this sculpture in the principal's office!
Ready, set... imagine!
Check out these stories: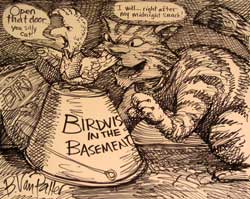 Birdvis in the Basement. I try to avoid stories that are based on an Elvis character, but this one wasn't really about him. It was about a bird who really knows humans who is sent into the basement of a house to open the outside doors so the birds can get birdseed. But a monster is lurking in the dark! Watch out, Birdvis!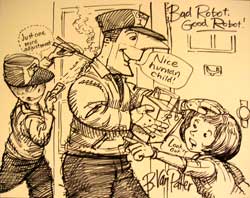 In Bad Robot, Good Robot, aliens have put a robot on earth to gain control and destroy humanity. But as he blends in -- as a Chinese Food delivery guy -- he gets to know one family and starts to question his orders. An alien here is trying to fix the problem. This story gave me a chance to tell kids about Isaac Asimov and his "Laws of Robotics".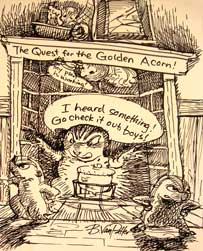 When a squirrel sets out on The Quest for the Golden Acorn, little does he know he'll be up against a gang of ruthless chipmunks in an old house!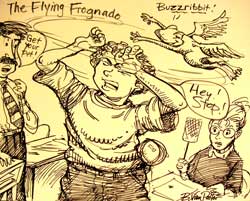 This story was interesting because the idea for the story grew and changed as we went. We had wanted the story to be about the boy finding The Flying Frognado. But then we thought it would be more interesting to see what happened if the Frognado followed him back to school!