A whole year of creative writing lessons tailored to homeschoolers!
If you're looking for a writing program that will get your child excited about writing, you've found it! Here, in one volume, are 37 dynamic lessons, tested by homeschoolers all over the world, and now available as a downloadable document. Sparks can make writing fun!
One mom who used these lessons said, "I homeschool four children and look for many ways to teach with enthusiasm! Your lessons were very helpful!"
Another mom wrote me to say, "I just purchased your book and LOVE IT! Creative writing had become the class both my son and I dreaded - but you are making it fun! Thanks so much!!! Makes my life as a homeschool mother a little easier."
What makes Sparks so different from the other books of creative writing prompts?
| | | |
| --- | --- | --- |
| | • The lessons can be taught to varying ages of children at the same time. Each session starts with group brainstorming that benefits from a range of ideas. Even young kids can chime in with their thoughts. Then, during the individual writing time, each student can work at their own level of skill. | |
| | • The lessons coax children outside their writing comfort zone. These lessons are creative! I help around 12,000 elementary-age students each year invent stories . I know what sparks kids' imaginations. Through brainstorming and random connections, your children will begin think of their writing time as fun. They won't even notice that they're writing about topics they never tackled before. | |
| | • The book is in pdf form. Talk about convenient! There's no need to squash a book onto a fussy copy machine. These lessons and the images can be printed directly from your computer. Also, some lessons come with links to helpful sites related to the topic. Click on the links and you're there. Try that with a printed book! | |
| | • Each lesson comes with a visual prompt. Most of these are images I've created to stimulate imaginations or students' senses of humor. Some are website pages. These extra visual aids help to focus the attention of children | |
| | • No tax! No shipping! No waiting! Click on the BUY NOW button below and within minutes you'll have the file and be ready to use the lessons. | |
| | Finally, these lessons are tailored to homeschoolers. My wife and I homeschooled our children for nearly a decade, so bring my insider knowledge to the shaping of the flow of the lessons. | |
"Every family should have a copy of this book on their hard drive. Bruce Van Patter's creative writing inspirations are tried and true across the globe, having helped thousands of students and teachers. With an e-book targeted for homeschoolers, Sparks is truly an indispensable resource with a year full of writing prompts to get your students crafting fun written works..."

"What so impressed me about this curriculum, was how much writing we accomplished based on a single prompt... If you have more than one child working on the prompt, I imagine you would have completely different results and interpretations from each one of them."

"Sparks, which is adaptable for grades 1-8, is a great way to shake up the writing in your homeschool, taking the writing off the paper and inspiring each student's own unique creativity and style."

Tammy Litke, Curriculum Reviewer
The Homeschool Classroom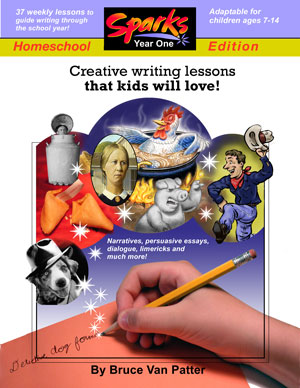 Holidays around which lessons are built include:
• World Egg Day
• Squirrel Appreciation Day
• Unique Names Day
• Fortune Cookie Day
• Underdog Day
• World Hello Day
Birthdays include:
• C.S. Lewis, writer
• Edward Lear, father of the limerick
• Norman Rockwell, illustrator
• Aaron Copland, composer
• Harold Lloyd, silent film comedian
• Alfred Eisenstaedt, photographer
• Harry Houdini, escape artist
Since some of these lessons build upon a famous painting or photograph, you can also count the writing time as art history in your portfolio!
These lessons can be taught during the week of the event, or can be taught as stand-alone lessons any time of the year.
MONEY BACK GUARANTEE!
I'm so convinced you're going to like these lessons, I'll give you a money-back guarantee. Purchase the book, download it, read it over. Try out a lesson with your class. If my approach doesn't work for you, no problem: email me within 45 days of purchase and I'll refund your money. But I think you're going to find your kids are going to love these lessons!
Images that accompany lessons.
The lessons in Year One of Sparks focus on:

- narrative writing
- persuasive essays
- limericks
- dialogue

- inventing words
- writing similes
- inventing a tall tale
- rewriting a fairy tale
See a sample lesson and picture!
These lessons do not teach the formal elements of writing -- grammar, sentence structure, organizing paragraphs and the like. You will need an additional source for that information; there are many such guides on the market. But if you want something to inspire your kids to put their ideas on paper, you won't find anything more motivating than this book.
Put the creative back into your child's creative writing!

Bruce Van Patter
author, illustrator and creative writing motivator

---