The assembly stories
The four ingredients: a pig in a jungle trying to bounce really high up against a goat

The story: our pig hero loves a rare kind of fruit: pig fruit! He tasted it once and has been searching for it ever since. His search takes him to the rainforest, where he at last finds the pig fruit tree.

But there is a problem. It's really high. So he bounces on leaves to be able to reach the fuit.

But there is another problem. A goat guards the tree. He likes the fruit as much as the pig!

I had fun disguising the goat in among all the spiky leaves of the tree.
---
The four ingredients: a nerdy guy on an island looking for a friend up against an old man ninja

The story: The nerdy guy in this drawing hardly ever goes out. That's why he doesn't have any friends. So he decides to go on vacation and get his life in balance. He travels to a distant island, only to find that it isn't a popular tourist spot. In fact, the only person on the island is an old man ninja -- who turns out to be his dad! (Well, I probably should have made him his grandpa!)

I added checked pants to the old guy at the suggestion of a teacher -- a great detail!
The workshop stories
I love this interesting doodle on the right. His half-closed eyes made us think of a guy who never gets emotional. We weren't sure why his hand was raised.

We put him in a story that took him down underground into a strange land.

In this world, birds sing sweetly all the time. People who chance upon this world never want to leave because of how happy they feel -- at first. Once you're trapped there, the chirping gets annoying, but then it's too late!

Our hero is rescuing his girlfriend. He isn't affected by the singing because he's so unemotional. And at the end of the drawing, I figured out why his hand was raised!
---
Here is a doodle of a girl sitting on a hill. This story also has to do with things underground, but in this tale, we thought that there was a magical woman who lived in the hill. Only this shy girl knew about her. Other people wondered why the girl sat all alone on the hill, just waving to people who passed by.

Things get tricky when the girl's one and only friend disappears into the hill. Our heroine has to somehow save her from the magical woman. How? She will trade the only thing she has of value: a book.

We didn't decide what the book was, but I'm thinking it should be the book that told the girl about the magic hill. Once the magical woman has that, no one will ever again disturb her rest!
---
If you look closely at the doodle for this story, you'll see an odd line coming up from the boy's head. We thought that was a tracking device that was put on this boy before he escaped from a distant planet. He has come to earth but has been followed by a guy who wants to capture him. Somehow the tracker found out the boy worked in a carnival ride.

Here we can see the boy leaping out to scare the hunter so that a girl -- who likes the boy -- can grab the tracking device. When that is destroyed, he'll lose the antenna and be able to blend in easier.
---
| | | |
| --- | --- | --- |
| | | |
I had such a great time on stage at Spring Ridge. There was so much energy and laughter coming out of the audience. AND... I got to play the new Ninja music I found. But most of all, the day was fun because of the creative sparks that were flying out of the imaginations of the studenst. You kids ARE creative. Now you just need to keep those ideas flowing. Put your stories down on paper and share them with others!
Thanks to everyone for a great day!
Don't forget to check out all my fun stuff! Click on the words below!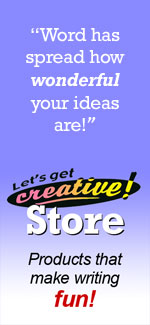 In addition to all the free material on this site, I have downloadable books that are perfect for keeping kids writing in school or at home!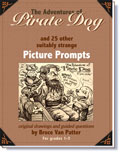 The Adventures of Pirate Dog
Picture prompts are a great way to inspire kids to write! Here are 26 of my best drawings with fun, pre-writing worksheets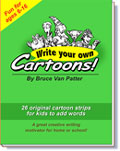 Write Your Own
Cartoons!
Kids can add the
dialogue and their special touches to my funny comic strips filled with wacky characters!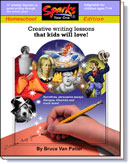 Sparks: Year One
Here's a fantastic resource for teachers: a whole year of weekly creative writing lessons built around wacky holidays!