This was a real gem of a visit. I mean that literally, thanks to Spencer. But you'll have to read on to find out what I mean. Here are the fun stories we invented in my day at SRD.
The assembly drawings

The four ingredients: a Viking girl on a cloud looking for a friend with a silly sidekick of a squirrel superhero

The story: This Viking girl had a curse put upon her by an old woman. Why? Because the girl was doing the usual Viking raid and taking the woman's things. The curse was that our Viking girl would have to ride on a cloud until she could get someone to kindly shake her hand.

The problem is that her cloud brings storms and nobody has been able to stay out in the storm. Until the girl found a pirate. Will he shake her hand? Maybe not if the squirrel keeps annoying him!
The Workshop Stories
This story is about a girl and a magic gem. She's a princess who is able to magically fly when she has the gem. When a dragon starts terrorizing the kingdom, she goes off to defeat it. But a peasant boy she likes takes the gem!

When she goes to rescue him, she throws the gem into the mouth of the dragon, which makes the beast fly away, out of control.

What made this workshop so memorable for me is that after it was over, a boy named Spencer came up and said, "I know what that gem looked like."

"Like what?" I asked.

"Like this!" he said, and he pulled this huge gem out of his pocket! You should have seen how surprised I was! Wow! In all the years I've been helping kids make up stories with magic gems, NEVER before has anyone had a gem in his pocket.

That is so awesome, Spencer. It's moments like these that are truly magical for me.
---
Here we have a tale about a girl who is on a quest to give out special shells she's created that will control people by the whispering sounds that come out of the shells. Why does she want to control people? So that she can get back through a puddle into her other dimension and defeat a fearsome creature.

But when she comes back with her humans, to her dismay the beast has followed her to this world. It rises up from the puddle ready to destroy her and her human friends. Thinking quickly, they hold up their shells. The powerful combination of shell sounds defeats the monster!
---
Finally, here is second grade's story about a dog who digs up a ball in the neighbor's yard. What's so bad about that? It's a magic ball with a terrible power: it makes dogs chase their tails so fast, they become tornados!

But the neighbor boy, who once lost his dog to this ball's power, rushes out to cover it with a towel to save our dog hero.

I like that title: The Dognado!
---
What a great time we had inventing stories.

Way to go, SRD kids!

Keep imagining, and put those great stories down on paper!
| | |
| --- | --- |
| | Here are some shots from my half-day working with Bergen kids! |
Remember... you have great ideas. Share them!
Check out this wonderful drawing that Erin made while I was drawing the same picture at the end of our workshop. Great job, Erin!
Can you find the story this comes from?

In addition to all the free material on this site, I have downloadable books that are perfect for keeping kids writing in school or at home!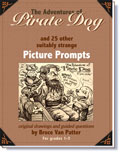 The Adventures of Pirate Dog
Picture prompts are a great way to inspire kids to write! Here are 26 of my best drawings with fun, pre-writing worksheets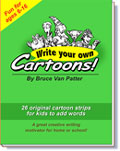 Write Your Own
Cartoons!
Kids can add the
dialogue and their special touches to my funny comic strips filled with wacky characters!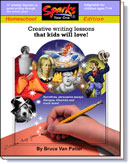 Sparks: Year One
Here's a fantastic resource for teachers: a whole year of weekly creative writing lessons built around wacky holidays!