It's always nice to return to a school, especially one with such creative fourth graders! Here's what we invented during the day.
The assembly drawing
The four ingredients: a superhero in a junkyard looking for a whale with a cheetah silly sidekick

The story: our superhero has gone to a junkyard because his favorite squeaky toy -- the one that gives him courage to fight evil -- has been thrown in the trash. Now, his sidekick Cheetah is about to knock it into the incinerator!
---
The workshop stories
Here's a fantastic idea... and creepy. A guy who watches TV all the time hears a thump in the attic above him. He goes to investigate and finds a wizard trying to get back an old watch he's found and hidden up there. When he tries to scare the wizard away, the evil magician zaps himself into a TV set!

Then, as the young hero goes around the house trying to unplug the TV sets to get rid of the bad guy, the wizard keeps trying to keep him from succeeding! What will happen next? Tune in next time!
---
Here's another spooky story. A girl moves to a new town, but she's too shy to meet people. She stays in her room, reading scary stories, trying to avoid her mean brother and his friend, and watching the girl her age in the creepy old house next door.

One day, she decides to go over and meet the girl. But her brother and his friend have other plans -- unleashing a mean dog on her just to scare her! One girl in our session suggested the mean brother idea from her own personal experience!
---
Finally, in this story the only thing scary is the food! Here we have a great idea: a contest by the Puppy Yum Food company to find the perfect sandwich to sell for dogs. This guy has entered the contest with his own invented sandwich, but his dog doesn't want it, even though he tries his dog-calming powers on the pooch.

Just when he thinks he'll lose, he opens his own lunch to find the disgusting sandwich his mother has made him. (She's known for disgusting sandwiches.) The dog sees it and loves the smell of it.

What was in the sandwich? You'll have to ask one the fourth graders to tell you after they see the note I added from the boy's mother.
---
| | | | | |
| --- | --- | --- | --- | --- |
| | | See that Q I'm holding? It goes to the Wheel of Fiction and represents a quest. We were on a quest for crazy, fun ideas. I think we found some. | | |
For instance, look at this drawing done by a student. It's a penguin in a bikini! These ideas showed me once again that Stony Brook kids are truly creative. I hope you guys will keep using your ideas and putting them down on paper.
And don't forget to check out some of the fun things I have on my site, linked below!

In addition to all the free material on this site, I have downloadable books that are perfect for keeping kids writing in school or at home!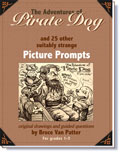 The Adventures of Pirate Dog
Picture prompts are a great way to inspire kids to write! Here are 26 of my best drawings with fun, pre-writing worksheets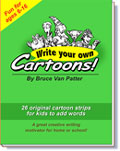 Write Your Own
Cartoons!
Kids can add the
dialogue and their special touches to my funny comic strips filled with wacky characters!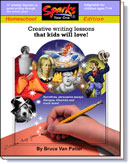 Sparks: Year One
Here's a fantastic resource for teachers: a whole year of weekly creative writing lessons built around wacky holidays!