Here was something new for me: three assemblies in a row, each one with its own grade. It was fun! Each grade had their own story:
Second Grade

The four ingredients: a moose in a school looking for a book up against a dragon

The story: Our poor moose wishes he could learn to do moose calls. So where does he go to learn? The library, of course. He gets a book of moose calls and tries them out.

The librarian isn't breathing fire, she's telling him to shush! Or, as kids are taught in Stourbridge: his lips need to be zipped!
---
Kindergarten

The four ingredients: a jaguar in the woods looking for a fish up against a bear!

The story: This jaguar wants to catch a fish in a big way. He's never been able to get one. So when he sees one just sitting in a fish bowl on the water, he's all excited.

But the fish is a pet of the bear! I don't think the bear wants to give her up. I like the name a student gave to the fish: Sunflower. Such a sweet name.
---
First Grade

The four ingredients: a lion/alligator on a river looking to be set free up against a tiger

The story: Here's another animal that wants to be good at something. This lion isn't scary, so he decides to be an alligator. He shoves himself into a hollow log to float in the water.

But he didn't see the waterfall just ahead. So now, the tiger who he wanted to scare now needs to come to his rescue! Hurry up, Tiger! It's almost too late!
So, thanks to all who were on my teams. You really had great ideas. And thanks to all the students who were so eager to listen and share their ideas.

Remember, your ideas are great and should be shared with others. Spend some time soon and write down your stories or draw pictures.

You can be an author and illustrator even today!

In addition to all the free material on this site, I have downloadable books that are perfect for keeping kids writing in school or at home!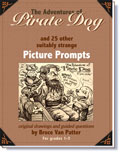 The Adventures of Pirate Dog
Picture prompts are a great way to inspire kids to write! Here are 26 of my best drawings with fun, pre-writing worksheets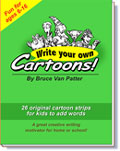 Write Your Own
Cartoons!
Kids can add the
dialogue and their special touches to my funny comic strips filled with wacky characters!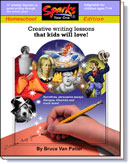 Sparks: Year One
Here's a fantastic resource for teachers: a whole year of weekly creative writing lessons built around wacky holidays!