Workshops all day!
In this session, we used my Four Corners activity to come up with this combination:

A happy cat in a fridge who wants a wig.

So we used that to imagine a cat that hides in the dark of a fridge and is tired of leftovers. He wishes to go back to the house of his owner's granny. She had the very best food.

So, the cat escapes, finds a wig, then dresses up as granny and goes to her house. I'm not sure what happened to granny -- maybe the cat locked her in a closet. Mean cat.

But during dinner, the cat's wig slips and he's found out. A chase follows. I thought he'd maybe end up hiding in the granny's fridge.
---
This workshop used Wacky Headlines to come up with title of this story:

Funny Caveman Flips Pudding

We imagined he was trying to do his own cooking show to proved to everyone that he could be a modern caveman. But during the show, he mistakenly flips the pudding he's making into the bowl of mac and cheese that's being tasted by a food critic. Worst of all , this is all caught on camera!

What an interesting combination: mac & cheese & pudding! Yum!
This story also came out of Wacky Headlines and had to do with an angry pizza man who spies on a hairy pop singer.

We thought that these two guys, Vinny and Alphonso, used to work in a pizza shop together. They sang so much and made music while they baked, that people came from all around to hear them. Vinny (the guy on the left) had the best singing voice.

One day, Alphonso quits the pizza parlor and starts a tour, singing all the old pizza shop favorites. Vinny spies on him to see what he's up to. Turns out that Al has been using Vinny's voice on tape! What a faker!

So Vinny gives him a free pizza -- sort of. When Al yells and the singing keeps going, people catch on to the trick!
---
This story is all about a computer wizard who invents a laptop that can take him back in time. Nobody believes him. So he takes some dodo eggs from the past and is about to return when the father dodo grabs his sleeve. The boy and the bird end up falling through the time portal into -- the Roman Coliseum!

There's danger all around: tigers roam the arena and the Dada Dodo is determined to get the eggs back.

I tried to picture the tiger leaping just as the boy is able to get the portal open. I encouraged the kids in the session to write their own ideas about where the tiger might end up. One student said at the Boston Tea Party! I love it!
---
With 5th grade, I had four students act out the old story of a knight that saves a princess from a dragon. Then we re-invented it. We like best this combination: a dragon saves a princess from a knight.

Here's just one quick drawing from a story I made up with one grade which has a chicken launching a egg-shaped rock into the open mouth of a fox!

I always wondered what that spring-thing was that I had in my Cool Stuff Bag.

This is a complicated story, involving a princess and a famous dragon-fighting knight -- who turns out to be the princess's sister!

I can't go into all the details, but it was fun to turn around all the expectations of a fairy tale. And I got to recommend a wonderful book: The Blue Sword by Robin McKinley, which also has a dragon-fighting girl.
This kindergarten story is all about a bee who wants to go surfing. He finds a board but it's too big. Good thing a shark came along and chomped it down to size for him. This is the first bee I think I've ever drawn as a main character in a school story. I liked drawing him. Maybe I'll do it again soon.
I was so happy that kids remembered me and were excited about making up more stories.

But don't wait for another visit to get your ideas down on paper, Vienna students. You have wonderful imaginations. Use them. Put your stories on paper. If you need to, use one of the ideas I showed you today to get a good combination of story parts.

Thanks to everyone, including the PTA for such a great day.

In addition to all the free material on this site, I have downloadable books that are perfect for keeping kids writing in school or at home!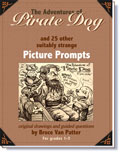 The Adventures of Pirate Dog
Picture prompts are a great way to inspire kids to write! Here are 26 of my best drawings with fun, pre-writing worksheets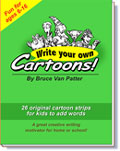 Write Your Own
Cartoons!
Kids can add the
dialogue and their special touches to my funny comic strips filled with wacky characters!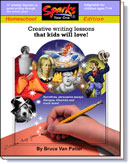 Sparks: Year One
Here's a fantastic resource for teachers: a whole year of weekly creative writing lessons built around wacky holidays!