I love new opportunities to inspire and teach kids. The Wandell School gave me a special treat: to be able to do my usual day of writing motivation then come back and follow up with grades one and two. I not only got to read stories by these creative kids, we worked on making a new story from one of my favorite school drawings. This was a fun day and a half!
The Assembly Stories
The four ingredients: a dog in a castle looking for a job up against a lion

The story: this dog comes to the castle to find employment. He can't do many things, but he can make people laugh. So he sneaks onto a serving tray and pops out to juggle the king's dessert: assorted fruit!

The king doesn't look all that happy about the entertainment. I guess the dog should learn not to play with food -- especially someone else's food when the someone else has big claws!
The four ingredients: a superhero in a city street wanting to lose weight up against a cowgirl

The story: I'm not sure that I created much of a story, but it is a funny picture, I think. Balloon Boy trying to save the city from Cowgirl. I have no idea what her power or plan is except that Balloon Boy won't let her get away with anything.

So she over-inflates him, then lassos him so that she can keep him where she wants him: floating high and out of reach!

What a funny combination!

Here are two pictures from the assemblies.
The workshop tales
For this 2nd-grade workshop, we came up with a great doodled character. It really looks like this dog is sinking into water.

So we imagined that he is out to save his missing bird buddy from two scheming pets, a cat and a bulldog.

When I came back after a day away, I read some fabulous stories, with invisible ponds and tractors that climb into the mountains. In some stories, the dog defeats the evil duo. In others, they all become friends!
---
In the other 2nd grade workshop, we had a boy archeologist who digs up aliens! We had fun trying to think of reasons why the aliens wanted to be put back into the ground.

Once again, I returned to read great stroies written by the kids with fantastic details.

I was very impressed with the variety of ideas that kids worked into the story. Great job, everyone!
---
Run, bull, run!

First grade invented a story about a sheep who is upset about a bull who is coming into the sheep field and chasing after all the sheep. In order to decide what the sheep would do to get rid of the bull, I had a student reach into my Bag of Odd Things and pull something out. She pulled out a goblet! So the kids imagined that the sheep, who is seen as a superhero because she scared away falling leaves, make some leaf tea. The bull doesn't like it, but is so happy that someone was nice to him, he invites the sheep to play tag with him

These kids also wrote some wonderful tales of the sheep and the bull. Many of them came up with their own ideas for how the sheep got rid of the bull.
On Thursday, I returned to work on writing with the kids using a picture prompt. We built a tale using one of my favorite drawings, The Adventure of Pirate Dog. Starting with the picture, we brainstormed a number of fun possibilities for the story.

| | | |
| --- | --- | --- |
| Then we actually did some writing. We worked on ideas for a great opening sentence. We wanted to get past the usual, "Once there was a..." And wow -- the kids did some great sentences! | | |

| | |
| --- | --- |
| | Want more picture prompts? Take a look at my new downloadable book with a familiar title: The Adventures of Pirate Dog! It's a great resource for encouraging young writers. |
What a great time I had! I hope you all did, too. It seems likely I'll be back, so untill then, keep being creative Wandell Writers! Your stories are worth telling!

In addition to all the free material on this site, I have downloadable books that are perfect for keeping kids writing in school or at home!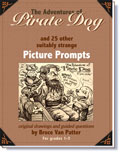 The Adventures of Pirate Dog
Picture prompts are a great way to inspire kids to write! Here are 26 of my best drawings with fun, pre-writing worksheets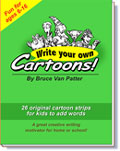 Write Your Own
Cartoons!
Kids can add the
dialogue and their special touches to my funny comic strips filled with wacky characters!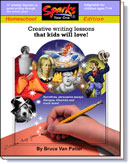 Sparks: Year One
Here's a fantastic resource for teachers: a whole year of weekly creative writing lessons built around wacky holidays!