My visit to Westfield Elementary!
I had a great time with kids in this town that I had driven through before, but never stopped. What a great reason to hang out in Westfield for the day -- inventing stories with kids!
The assembly drawings

The four ingredients: a slacker inventor named Hammy who has made his own turbo-charged LazyBoy chair on a hill looking for a chocolate bar factory up against a college dude

The story: We decided that this inventor guy wanted to escape his pushy mom, so he rode his turbo chair off into the air. It crash landed on a tree that was growing chocolate bars.

The tree is an experiment by a college student, who was growing it as his senior research project. He's not happy about Hammy. Neither is Hammy's mom, who has tracked him down!

---

The four ingredients: a turtle named Timmy at the end of a rainbow, looking for a pile of books up against a bear

The story: Timmy who has believed that the real treasure at the end of the rainbow isn't gold but rare, amazing books! one day he sets off to discover the truth.

He finds the books! But what he doesn't know is that there is a Rainbow Bear who protects the books. Look at him sliding down! He doesn't look happy, does he?

It's a good thing that Timmy has his sidekick Rick the Rabbit to warn him!
We started with an amazing drawing of a mysterious woman in a cape. We brainstormed that she was a mystery girl who lived in medieval times and was great at sneaking and scheming. Along the way, she finds a gem that gives her power to be extra-sneaky.

But the people from whom she stole the gem want it back, of course. They find out that she's the thief through her friend, who brags that she knows who the real mystery woman is.

When the friend is kidnapped by the two gem-seekers, our hero girl tries to use her powerful gem to resce her, but they have rocks that break up the powerful rays that come from the gem! Oh no, what will the mystery girl do now?
---
Again, we have a powerful object. This one is a Power Cube. Our spy guy, who is really good at listening in on conversations is given the cube by his spy boss. But our hero can't figure out what's so special about it.

What he's about to find out is that when anyone turns the cube sections, it can create a portal to another world.

Through that portal is coming a real monster -- something straight from his worst nightmares, combining the two animals he's most afraid of: mice and chickens!

Is it a Micken? Is it a Chouse?

It's plain mean-looking, that's what it is!
---
I love a good alien story. In this one, a boy who is actually an alien has been searching for the ruins of his ancestors' ship. He finds it on a deserted beach. He studies the ship and makes notes and sketches in a little book. He shows the book to a girl he likes.

Too bad that the girl is the daughter of a scientist who wants to study aliens!

She has led her father straight to the ship ruins and shows him the boy's notebook.

Not fair! Maybe in the end, they'll all work together to get the ship rebuilt!
---
Want to motivate young writers in your life?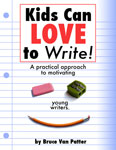 This book can help!
I've collected 39 of my weekly emails to teachers on creative writing into one downloadable book. Kids Can Love to Write captures the essence of my approach to making writing fun for kids. Whether you have an enthused young writer or one that needs big motivation, this book will show you how to get the most out of their imaginative minds.
Find other creative writing helps at my store!
---
New on my site!


I love random connections! Here's a page that will create random What If Questions to help you start stories!
---
---